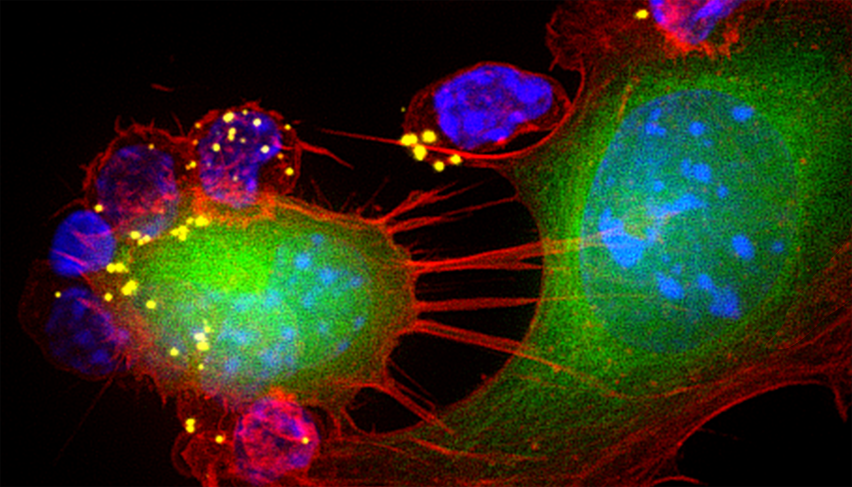 Biological, chemical, and materials engineers are engaged at the forefront of immunology research. At their disposal is an analytical toolkit honed to solve problems in the petrochemical and materials industries, which share the presence of complex reaction networks, and convective and diffusive molecular transport. Powerful synthetic capabilities have also been crafted: binding proteins can be engineered with effectively arbitrary specificity and affinity, and multifunctional nanoparticles and gels have been designed to interact in highly specific fashions with cells and tissues. Fearless pursuit of knowledge and solutions across disciplinary boundaries characterizes this nascent discipline of immune engineering, synergizing with immunologists and clinicians to put immunotherapy into practice.
Videos of selected presentations are available on YouTube.
Speakers
Galit Alter | Ragon Institute, MGH
Dissecting correlates of immunological protection from infection
Watch video 
Nina Bhardwaj | Mount Sinai Hospital
Modulation of immunity by dendritic cells
Watch video
Michael Birnbaum | MIT, Koch Institute
Decoding T cell recognition
Watch video
Dennis Burton | Scripps Research Institute
Neutralizing antibody engineering and HIV vaccine design
Arup Chakraborty | MIT, IMES
How to hit HIV where it hurts
Jianzhu Chen | MIT, Koch Institute
Engineering human immune system in mice for basic and translational research
Watch video
Jennifer Cochran | Stanford University
Integrin-targeted combination immunotherapy
Mark Davis | Stanford University
Deconvolving T cell responses and T cell receptor repertoire
Glenn Dranoff | Novartis
Mechanisms of Protective Tumor Immunity
George Georgiou | University of Texas, Austin
Preclinical and clinical development of therapeutic enzymes for cancer treatment
Jeff Hubbell | University of Chicago
Pathways for engineering immunological tolerance
Darrell Irvine | MIT, Koch Institute
Chemically-enhanced T-cells for cancer immunotherapy
Tyler Jacks | MIT, Koch Institute
Stimulating immune response in genetically engineered mouse models of cancer
Ning Jenny Jiang | University of Texas, Austin
Immune repertoire profiling by high-throughput sequencing
Doug Lauffenburger | MIT, BE & Koch Institute
In vivo systems analysis of immune/inflammatory pathophysiology
Watch video
Judy Lieberman | Children's Hospital
Manipulating the in vivo immune response by targeted gene knockdown
Watch video
Christopher Love | MIT, Koch Institute
Characterizing T cells in MS and GBM
Scott Manalis | MIT, Koch Institute
Biological insights from linking single cell growth to the transcriptome
David Mooney | Harvard, Wyss Institute
Biomaterials to regulate immune cell trafficking and activation
Watch video
Hidde Ploegh | Whitehead Institute & MIT, Koch Institute
Non-invasive imaging of immune cells​
Watch video
Arlene Sharpe | Harvard University
Multifaceted functions of the PD-1 pathway
Melody Swartz | University of Chicago
Lymphatic vessels in immunomodulation: new insights and therapeutic targets
Dane Wittrup | MIT, Koch Institute
Engineering synergistic innate and adaptive immunotherapeutic responses with anti-tumor antibodies and IL-2​
We gratefully acknowledge our:
Partner
Pfizer Inc.
Affiliates
Adimab, LLC
BIND Therapeutics
Compass Therapeutics LLC
Vedantra Pharmaceuticals, Inc.
Collaborators
Janssen Research & Development, LLC
Merck
Roche
Takeda Pharmaceuticals
Third Rock Ventures LLC
Sponsors
Bristol-Myers Squibb
Checkmate Pharmaceuticals, Inc.
Merrimack Pharmaceuticals, Inc.
Novartis
Selecta Biosciences, Inc.
Unum Therapeutics