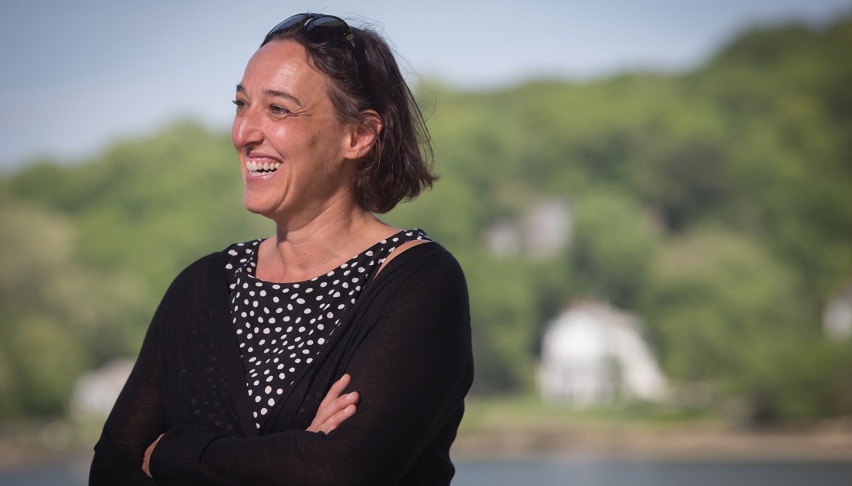 Angelika Amon. Credit: Constance Brukin, courtesy of Cold Spring Harbor Laboratory Archives
Pioneering geneticist and cell biologist Angelika Amon (1967-2020) was a dedicated mentor, guide, advocate, and friend to many scientists. From her five years as a fellow at the Whitehead Institute and through her time as a faculty member at the Koch Institute for Integrative Cancer Research, she trained countless undergraduate and graduate students, postdoctoral researchers, and technicians—sharing with them her lifelong passion for fundamental biology and discovery science. The ripple effect of Angelika's inspiration and counsel is profound. Amon Lab alumni have set up their own labs in numerous universities and research institutes around the world.
The Angelika Amon Young Scientist Award at MIT's Koch Institute is an endowed prize established in 2021 by family and friends to support two graduate students in the life sciences or biomedical research from institutions outside the United States who embody Dr. Amon's infectious enthusiasm for discovery science. Winners are invited to the Koch Institute to meet with faculty and trainees, participate in a celebratory lunch, and deliver scientific presentations to the MIT community and Amon Lab alumni. 
Eligibility: The 2023 Amon Young Scientist Awards are now open to applications from mid- to late-stage graduate students pursuing advanced degrees in the life sciences or biomedical research at non-US institutions.

Please submit application as a single email to amon_award_ki@mit.edu by 4:00 p.m. EST on May 31, 2023.
Required components in a single PDF format (please follow this order):
Cover page, including applicant information: name, address, home institution, department/degree program, email, and phone
Research summary (300 words maximum) or abstract of graduate thesis
Current CV
Written personal statement (one page limit) addressing the following questions: What led you to discovery science? How did you get to this stage of research? What do you hope to do next? How does this award resonate with your goals?
Video (3 minute maximum, shared via YouTube link only) addressing the following question: What are most excited about in your research?
Two letters of institutional support from applicant's home and/or affiliated institution, including one letter from the graduate research supervisor


Please email amon_award_ki@mit.edu with any questions.
2022
Alejandro Aguilera Castrejon, Weizmann Institute of Science, Israel
Melanie de Almeida, Research Institute of Molecular Pathology, Austria
Support the Award
Gifts to the Amon Young Scientist Award can be made online or by contacting Karen Sveda, Managing Director of Development, at ksveda@mit.edu or (617) 324-7399.