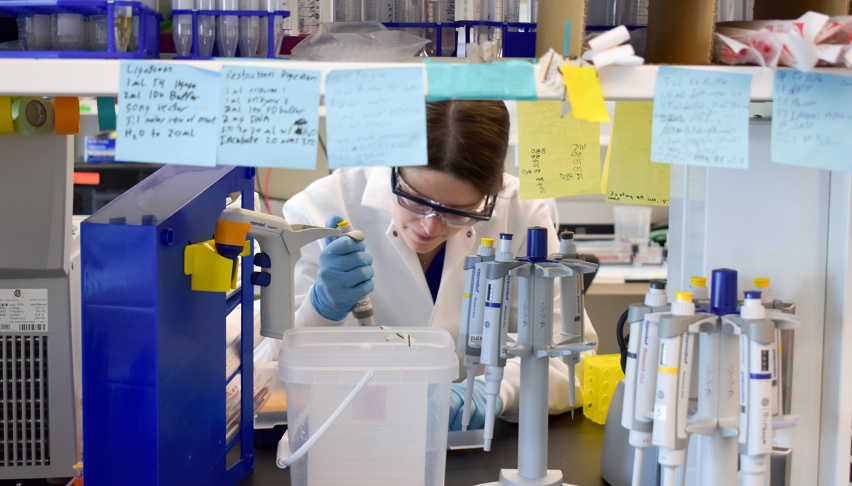 From discovery science, to materials design and machine learning, to translational solutions for patients and their loved ones—cancer research is the reason we come to work every day.
Supporting research from bench to bedside 
There's rarely a smooth runway between discovery or prototype and the launch of a new clinical application. Yet, there's a lot we can do to make this trajectory as short and direct as possible. From seed funding for early-stage ideas, to a translational consortium with Boston hospitals, to unrestricted resources that let us follow the science, we created our signature initiatives to sustain MIT ingenuity from blueprint to blastoff.   
Koch Institute Frontier Research Fund (3890280)  
Competitive seed funding for big ideas in cancer research—bold, early-stage innovations and collaborations—via our Koch Institute Frontier Research Program.  With the preliminary data they collect, prototypes they build, and model systems they develop, Frontier Research teams are well positioned to secure more substantial funding, launch crucial clinical and industry partnerships, or start their own companies to move advances toward the clinic.  
These proof-of-concept projects have the potential for transformative, rather than incremental, impact yet are hard to fund from conventional sources. Instead, we rely on gifts from individuals willing to take calculated risks and invest in MIT ingenuity. Several advances initially supported by the Koch Institute Frontier Research Program are now in the clinic, in trials, or in commercial development—and many more big ideas are waiting in the pipeline. Give Now 
Robert A. Swanson (1969) Biotechnology Center Endowed Fund (3139640)
Continues the legacy of biotech pioneer Bob Swanson and accelerates research progress against cancer and other challenges by providing access to cutting-edge technologies and first-rate technical experts to the entire Koch Institute community and labs across MIT. Each research facility that makes up the Swanson Biotechnology Center is integral to the success of the Koch Institute, allowing our scientists and engineers to go well beyond what they would be able to do in their individual laboratories, amplifying their effectiveness and enabling their creativity. Give Now
Research Acceleration Fund  
Provides the resources and runway for a lab to launch a completely new project. Funding to bring a new, dedicated researcher—such as a postdoc, grad student or technician—on board and support experiments for about three years, until the fledgling work is ready to fly on its own. Such new ideas and perspectives are key to driving leading-edge innovation. Expendable and endowed options; contact us for details.  
Research Centers 
Transformative philanthropy for one of the Koch Institute's strategic research focus areas or key priorities. Supports investigators, trainee fellowships, research, and programs under the oversight of a center director. Three current options exist in immune-oncology, early detection, or data science. Expendable and endowed options; contact us for details. 
The Bridge Project 
A collaboration between the Koch Institute and Dana-Farber/Harvard Cancer Center (DF/HCC), Harvard's teaching hospitals and medical/public health schools. All Bridge Project research teams comprise MIT and DF/HCC investigators, combining engineering, advanced cancer science, and clinical oncology to solve the most challenging problems in cancer research and care. Your support jumpstarts cross-disciplinary, cross-institutional research collaborations and speeds translational progress. Gifts equally apportioned to MIT and DF/HCC; contact us for details. 
Contact Us
To find out more about how you can make an impact contact Karen Sveda, Managing Director of Development at ksveda@mit.edu or (617) 324-7399.