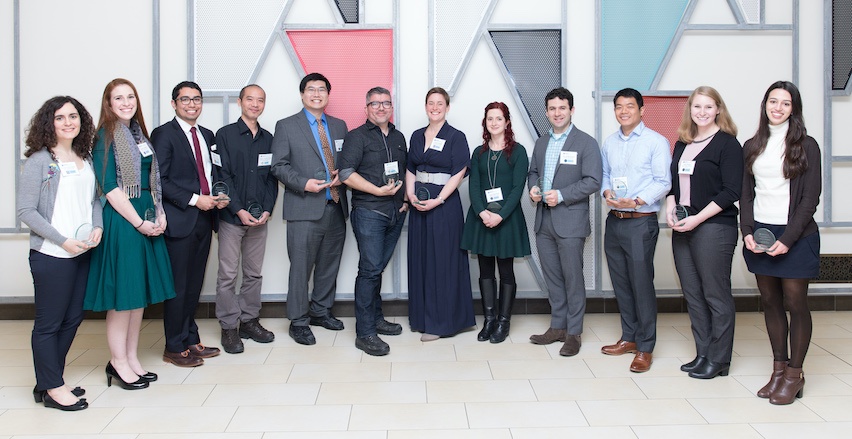 The 2018 Koch Institute Image Awards ceremony. Credit: Samara Vise
The Koch Institute Image Awards were established to recognize and publicly display the extraordinary visuals produced by life sciences and biomedical research at MIT. See below for competition rules, eligibility, and timeline or visit the Koch Institute Image Awards Archive to view past submissions.
About the Competition / FAQ
Who is eligible?
Any MIT students, faculty, staff, or affiliates may submit images. MIT community members at the Broad Institute and the Whitehead Institute are also eligible, as are MIT collaborators at other universities, hospitals, and private companies, so long as the submitted images have been created as part of an active collaboration with an MIT laboratory.
What images are acceptable?
Each contributor may submit up to five visuals. Submissions may be any visuals generated through the contributor's own research, including micrographs, renderings, and any other forms of data. Submissions must relate to the life sciences, but may do so by depicting any number of subjects using any number of imaging/visualization technologies. High resolution images are required for display in the Public Galleries—the more pixels, the better. When appropriate, preference will be given to cancer research projects.
How do I submit my images?
To enter the competition, send your image(s) and the accompanying image information form(s) to kigalleries@mit.edu.
Please provide the highest resolution version of your image(s) whenever possible, preferably in uncompressed .tif format (Dropbox/Google Drive links accepted). Do NOT upsample. Images with insufficient resolution will not be presented to the judges for review. Historically speaking, it has been very difficult to produce museum-quality display from images less than 1200 pixels on a side; however, the most successful enlargements have come from images with 2400-3000 or more pixels on a side (8-10 inches at 300 dpi).
Can I resubmit images?
Although we strongly encourage contributors to submit new images each year, non-winning images from previous years' competitions may be resubmitted once. When resubmitting, please indicate if anything has changed.
What's the timeline?
The 2024 Image Awards exhibition will open on March 14, 2024. The submission period for the 2024 competition is closed.
How are images judged?
Submissions are reviewed by an expert panel representing a wide range of STEAM disciplines and organizations, including journal editors, museum curators, media professionals, photographers, artists, scientists, and designers. We are looking for images that are both visually stunning and scientifically compelling, and that will display well with other images in the exhibition. The final exhibition will include a balance of representation from across MIT's biomedical research laboratories as well as a reasonable emphasis on cancer research given the display's location in the Koch Institute lobby.
Who owns the images?
As a rule, MIT holds copyright on all images taken on MIT equipment, unless otherwise specified by the funder. As such, use agreements and copyright disclosure forms will be required of all winners. Any contributor submitting images whose copyright is not owned by MIT will need to fill out an image release form granting MIT permission to display and reproduce these images as part of the Koch Institute Image Awards.
What happens to submitted images?
Winning images will be displayed in the Koch Institute Public Galleries, distributed as part of Image Awards exhibition press packets and in any resulting media displays.
All submitted images will be posted to the Koch Institute Image Awards Archive website unless you specifically opt out. It is our policy to contact image creators about any non-MIT requested use of images. The Koch Institute works closely with MIT's Technology Licensing Office to review these requests.
MIT departments, labs, and centers may use MIT-owned images for MIT purposes. When possible, we will contact image creators to notify them of these uses. Note that MIT holds copyright on all images taken on MIT equipment, unless otherwise specified by the funder.
Where have I seen these images before?
Images from the Koch Institute Image Awards have appeared as part of the Wellcome Image Awards exhibition (now the Wellcome Photography Prize), Cell Picture Show hosted by Cell Press, Nature, the Hall of Human Life at the Museum of Science, Boston, STAT, Image of the Day hosted by The Scientist magazine, National Geographic, Popular Science, and Spotlight Health as part of the Aspen Ideas Festival hosted by the Aspen Institute. To learn more about collaborative and public display opportunities, as well as media use of these images, contact us at kigalleries@mit.edu.
Other questions?
Contact kigalleries@mit.edu or visit ki-images.mit.edu to see past years' images.