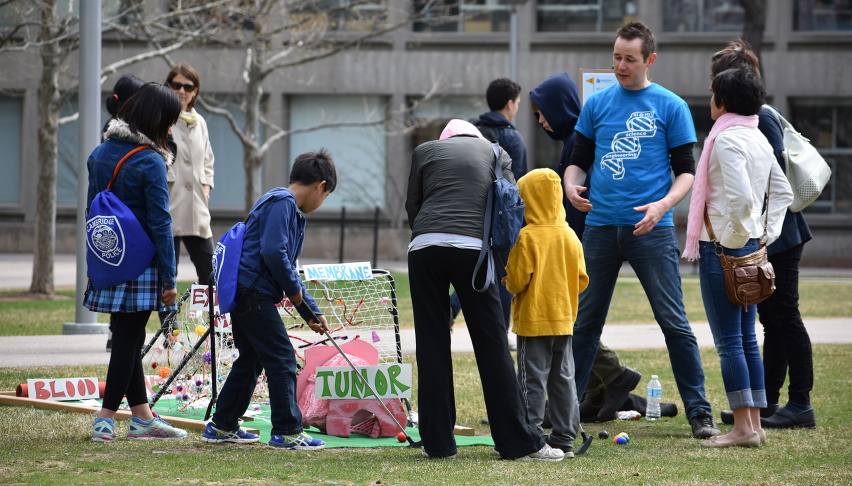 Cancer research mini-golf? Why not! The Koch Institute's public outreach efforts engage a variety of ages and audiences through events and programs, workshops and exhibitions, and communications.
A broader mission
Science literacy is increasingly vital for audiences of all backgrounds and ages. How we engage with science and engineering informs our personal career choices, health decisions, and buying habits; it helps us determine the public policies we support and the causes we give to.
At the Koch Institute, we don't want to operate in a vacuum, we want to share our research with the world. As we advance our strategic research priorities, we also work to engage the public in what we do, inspire the next generation of scientists and engineers, and provide our research community with opportunities to share their work far and wide.
Koch Institute Public Programs
From our signature with/in/sight public lecture series and Koch Institute Image Awards competition, to community outreach events and partnerships with scientific and educational organizations, the Koch Institute has been committed since its founding to finding creative ways to engage the public in cancer research and the broader scientific enterprise.
STEM & Education Programs
We believe science and engineering—and the convergence thereof—are for everyone. We offer hands-on workshops for K-12 student groups and educational organizations, as well as teacher training opportunities.
Communications
Koch Institute communications programs tell the stories of our research, impact, and community, introducing the amazing discoveries and transformations that happen inside our laboratories to the outside world.
Contact Us
To find out more about how you can make an impact, contact Karen Sveda, Managing Director of Development, at ksveda@mit.edu or (617) 324-7399.