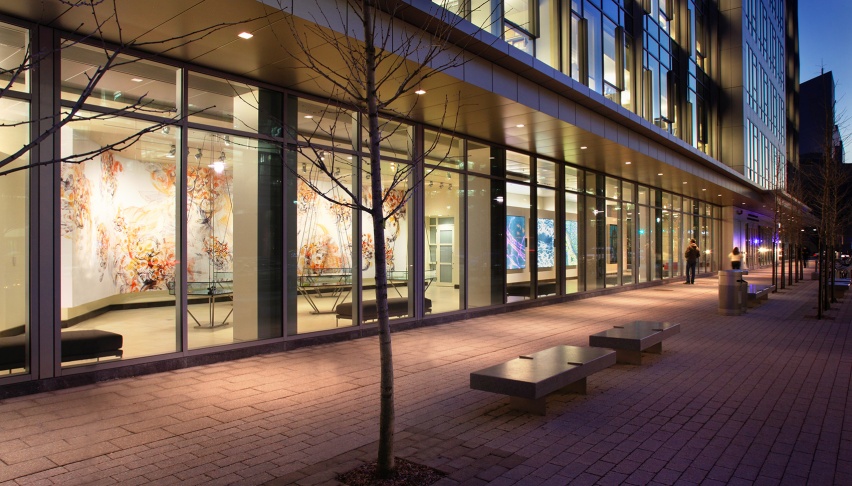 Credit: Courtesy of Ellenzweig, Architect
The Koch Institute Public Galleries were established to connect the community in Kendall Square and beyond with fascinating work being done at the cutting edge of cancer research. Within the Galleries, visitors can explore current cancer research projects, examine striking biomedical images, hear personal reflections on cancer and cancer research and investigate the historical, geographical and scientific contexts out of which the Koch Institute emerged. The Galleries also play host to a wide range of programming, including public events and youth outreach programs.  
The Galleries are open Monday through Friday from 6 a.m. to 6 p.m., excluding MIT holidays. Visitors may also explore selected exhibits via captions and QR codes printed on the Main Street-facing windows of the Koch Institute building. Contact us at kigalleries@mit.edu to arrange a tour for your group.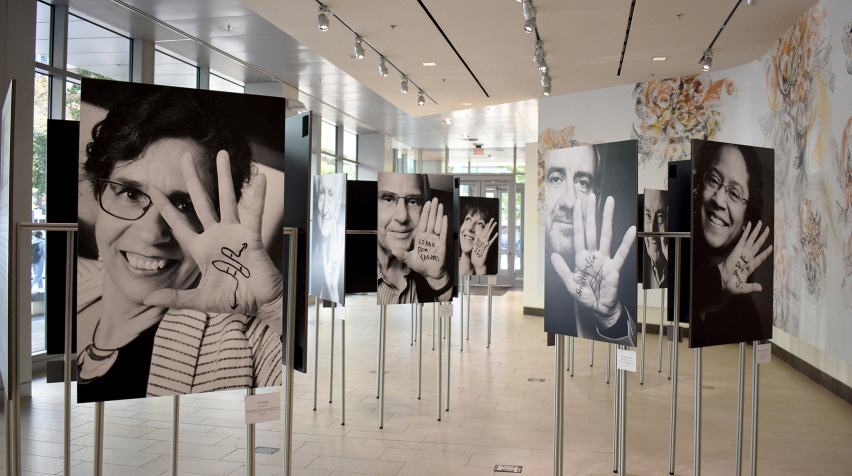 Photographer Herlinde Koelbl's portraits of renowned scientists from around the world capture the essence of their inspiration and pursuits of knowledge. The exhibition is presented with support from the Consulate General of Germany in Boston.
Current Exhibit Displays
Koch Institute Image Awards Exhibition (signature display) – featuring the winners of the annual Image Awards competition
Fascination of Science (special exhibition) – presenting works by renowned portrait photographer Herlinde Koelbl
Discovery Science (visual display) – reflecting on the deep biological underpinnings of cancer research at MIT
A Human Endeavor (video display) – highlighting diverse personal perspectives on cancer research
A Convergent Moment (mural) – showcasing the parallel histories of MIT science and engineering that led to the creation of the Koch Institute
High-Tech Neighborhood (mosaic) – examining the Koch Institute's place at the interface of MIT academic life and the biomedical landscape of Kendall Square
Signals (mural) – illustrating the vast network of interconnectedness that underlies the evolution of cancer cells
Eureka (sculpture) – celebrating the experience of an idea and the legacy of Robert A. Swanson
For questions about the Koch Institute Public Galleries or to arrange a tour for your group, contact kigalleries@mit.edu.