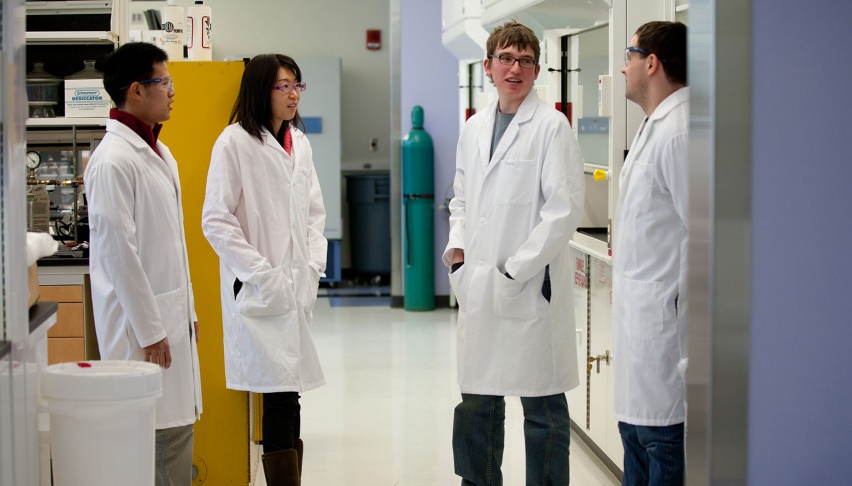 The Koch Institute shares MIT's commitment to education, and its large cohort of trainees—postdoctoral researchers and graduate students—will be the next generation of leading cancer investigators. Our trainees participate in a range of Koch Institute- and lab-sponsored programs, activities, and events; attend regular Koch Institute-sponsored research forums, seminars, and retreats; and receive experience and training on state-of-the-art equipment and research methodologies through the Koch Institute's Robert A. Swanson (1969) Biotechnology Center.
Beyond MIT, trainees can attend seminars sponsored by the many academic and clinical centers in the Boston area, and take advantage of MIT's relationships with the larger life sciences, biomedical, and engineering communities nearby.
Fellowships
Our trainees receive funding through grants and fellowships. Opportunities for graduate students are available through their home departments and the Office of the Dean for Graduate Education. For information about postdoctoral fellowship opportunities, visit the MIT Postdoctoral Services website.
Koch Institute-sponsored funding is available to KI graduate students and postdocs in the form of research fellowships and travel awards to attend conferences and other professional development programs. Koch Institute trainees may visit the KI Intranet to learn more about specific funding opportunities and deadlines, or contact our fellowships team at ki-fellowships@mit.edu to follow up on an existing application or award.
Convergence Scholars Program
Postdoctoral researchers working within the laboratories of the Marble Center for Cancer Nanomedicine and the MIT Center for Precision Cancer Medicine are eligible to apply for the Convergence Scholars Program, which helps postdocs in these Centers build experience and capacity beyond the bench by coordinating group activities to develop skills in leadership, communication, management, and translational impact. Learn more about the program here.
Mazumdar-Shaw Fellows Program
Since 2011, the Koch Institute has been home to the Mazumdar-Shaw International Oncology Fellows Program, a high-impact, bilateral collaboration with India focusing on cancer research training as its cornerstone. The Mazumdar-Shaw Fellows Program brings postdoctoral-level researchers to the Koch Institute to train for a period of two years. Those researchers will then return to India to help jump-start cancer research programs there. Learn more about eligibility and application requirements here or apply now.