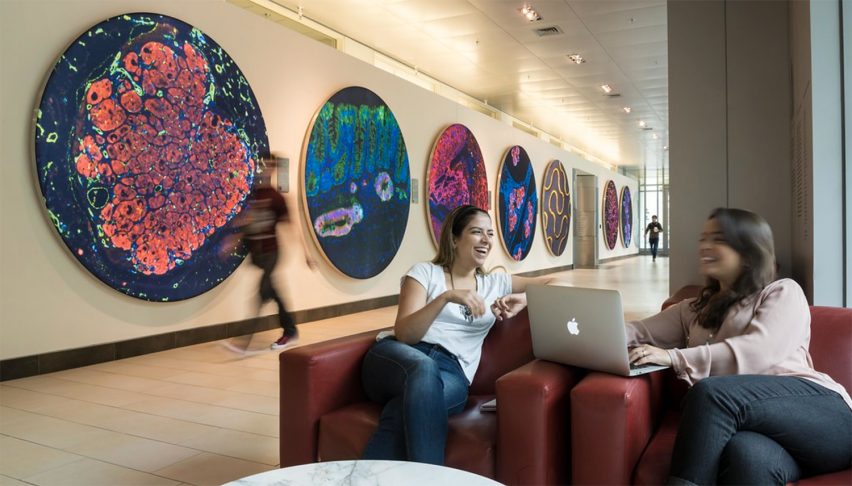 Credit: Christopher Harting
"The freedom to choose a scientific direction, and in close proximity to the best scientists of the world, is immensely gratifying. Not only am I able to advance my career as a scientist, but I am fortunate enough to help others from underprivileged backgrounds who dream of being a scientist, like I did many years ago."
Digbijay (Jay) Mahat, Sharp Lab Postdoc 
At the Koch Institute, we welcome individuals from all backgrounds and experiences and value contributions of every kind. The faculty members, postdoctoral researchers, students, and staff within our more than 75 intramural and extramural labs, core facilities, and administrative offices, take part in a robust, highly collaborative academic community. Our community brings together perspectives from a diverse range of fields including biology, biological, chemical, mechanical, and materi­als science engineering, chemistry, computer science, and more. 
The Koch Institute and its labs sponsor a range of programs, activities, and events, as well as regular research forums, seminars, and retreats. Beyond MIT, community members can attend seminars sponsored by the many academic and clinical centers in the Boston area, and take advantage of MIT's relationships with the larger life sciences, biomedical, and engineering communities nearby. 
Koch Institute faculty members come from a range of departments within MIT's School of Science and School of Engineering. Many also hold appointments at neighboring research centers and hospitals. 
Intramural 
Intramural faculty members establish their labs within the Koch Institute building. Hiring is conducted jointly by the Koch Institute and MIT's academic departments. Open positions are typically posted on Academic Jobs Online (search for "Koch Inst"), as well as major scientific journals.
Extramural 
Although extramural faculty members have labs in other buildings across MIT, they play a crucial role in the Koch Institute's research programs and activities. Extramural membership benefits include networking opportunities, access to community events, eligibility to apply to a variety of internal funding programs, and use of the KI Swanson Biotechnology Center core facilities at a reduced rate. 
Current MIT faculty members may apply for extramural Koch Institute membership by contacting the Koch Institute Director, Matt Vander Heiden, with a brief description of their cancer research interests and how they plan to interact with the KI community.   
The Koch Institute Clinical Investigators Program offers physician-scientists a unique opportunity to participate in cutting-edge cancer research while continuing their medical practice, and provides Koch Institute researchers with a frontline view of challenges in cancer treatment.  
Investigators work closely with Koch Institute faculty mentors and have access to networking opportunities and community events. They receive dedicated lab space, reduced-rate use of the KI Swanson Biotechnology Center core facilities, and are eligible to apply to a variety of internal funding programs.  
Interested physician-scientists may send inquiries to the director of the Koch Institute Clinical Investigator Program, Michael Yaffe, with cc: to the Koch Institute Director, Matt Vander Heiden.
The KI is a welcoming scientific community, for people from all backgrounds. Bring your uniqueness to the vibrant and diverse MIT postdoc community!
Tips for applying for a postdoc position at the KI
How to apply:
Postdocs positions are not always advertised. If you are interested in a lab, you can contact the Principal Investigator (PI) directly.

Include a cover letter and a CV. Make sure to discuss:

Your research interests
Why you are interested in this specific lab
What skills/expertise you can bring to the lab
Contacts for reference letters. If you ask your references to submit their letters at the time you send your application, your inquiry is less likely to go unnoticed.

If a PI does not reply, it is acceptable to re-send your inquiry.They may have missed your email. If possible, cc the PI's administrative assistant on the correspondence.

Although by no means necessary, it can be helpful if someone you know can make a virtual introduction to the faculty whose lab you would like to join, or if you can introduce yourself in person (e.g. at a conference) before sending your application.
What to expect from the interview:
PIs often pre-screen candidates with a short one-on-one interview
Prospective candidates are then typically invited to present their work for the group and meet with several people in the lab, either virtually or in person. Take advantage of this opportunity to ask about:

the lab environment

mentorship

expectations

timeline

policy regarding fellowships (being a postdoctoral fellow vs. a postdoctoral associate has many implications at MIT)
Rather than applying directly to the Koch Institute, graduate students must be admitted to MIT through one of the many academic departments where our faculty members also have appointments. You can find general information about applying to MIT graduate programs, as well as information about funding and considerations for international students, at the MIT Graduate Admissions website. However, each department has its own application website and its own detailed set of requirements. Please visit individual department websites to learn more.
MIT and cross-registered Wellesley College undergraduates who are interested in internships at the Koch Institute may find positions through the Undergraduate Research Opportunities Program (UROP), either by searching the UROP website for open positions or contacting faculty members directly to inquire about the possibility of working in their lab. 
Undergraduate students enrolled at other institutions may be eligible to participate in the MIT Summer Research Program (MSRP), a 10-week research-intensive summer training program for non-MIT sophomore and junior science majors who have an interest in a research career. Students interested in training in labs in the departments of Biology, Brain & Cognitive Sciences, or Chemistry should apply to the MSRP-Bio program.  
Current openings at the Koch Institute, including administrative, technical, and support positions, can be found on the MIT Human Resources website.
Visiting students and researchers must be invited by a faculty member to do research in their lab. Interested students and researchers may identify faculty members working in relevant fields and communicate with them directly to inquire about the possibility of a position. You can learn more about our faculty's research via our faculty directory, and find out more about visiting appointments at the MIT Office of the Vice President for Research website. 
MIT offers a range of programs for elementary, middle, and high school students who are interested in science and engineering, including several selective, on-campus summer programs for high school students. The Koch Institute does not offer internships. Please visit our Tours and Field Trips  page to learn more about educational opportunities for groups of middle and high school students at the Koch Institute. 
MIT is an equal employment opportunity employer. We value diversity and strongly encourage applications from individuals from all identities and backgrounds. All qualified applicants will receive equitable consideration for employment based on their experience and qualifications, and will not be discriminated against on the basis of race, color, sex, sexual orientation, gender identity, religion, disability, age, genetic information, veteran status, ancestry, or national or ethnic origin. MIT's full policy on Nondiscrimination can be found on the MIT Policies website. More information about Diversity, Equity and Inclusion at MIT can be found on the MIT Human Resources website.
MIT considers equivalent combinations of experience and education for certain jobs. All candidates who believe they possess equivalent experience and education are encouraged to apply.
Privacy and Accessibility
To safeguard our health and well-being, MIT requires COVID-19 vaccination for all MIT employees who work in the United States. Individuals may request exemption from the vaccine requirement for medical or religious reasons. More COVID-19 guidelines for campus access, health, and testing may be found at the MIT Now website. MIT's general policies for privacy and accessibility may be found at the MIT Human Resources website.