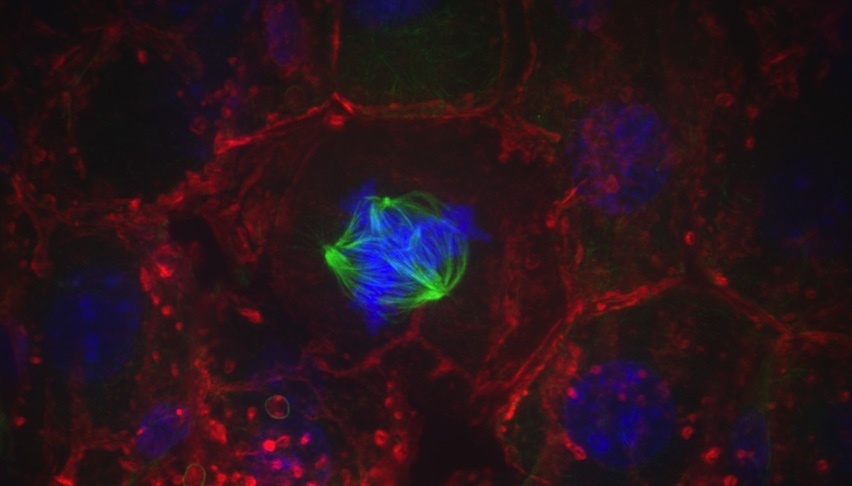 A liver cell with a multipolar spindle (green) pulls chromosomes (blue) in many directions. Studying cell division in the liver could provide insight into how this process is exploited or disrupted in cancer. Credit: Kristin Knouse (2014 Image Awards winner)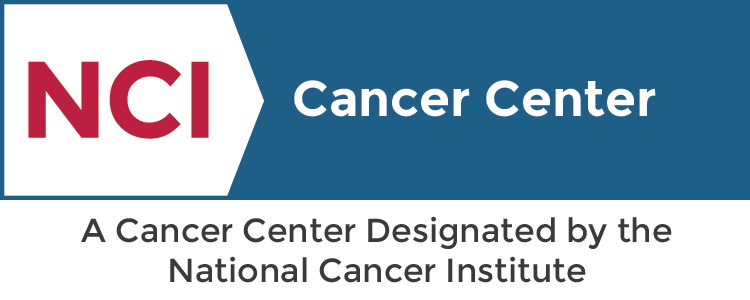 Since 1974, MIT has been a National Cancer Institute-designated basic cancer center, first as the MIT Center for Cancer Research and now as the Koch Institute. The NCI designation brings notable benefits to our research program, supporting core research facilities and selected staff members, training and development programs for our community, and additional funding opportunities for our investigators. Applying our great strengths in biology and engineering, and working closely with our clinical collaborators, we are deeply committed to creating knowledge, tools, and treatments to fight cancer. Our NCI Cancer Center Support Grant (P30-CA14051) comprises three internal research programs.
Program 1: Genetic & Cellular Programs in Cancer
Focuses on mechanisms governing the cellular states and interactions of cancer and other cells within tumors.
Program 1 focuses on two main themes. The first theme aims to elucidate molecular mechanisms that control critical aspects of the malignant cell phenotype and translate this this knowledge into new therapeutic strategies, organized around the following topics: 1) the role of phase transition and transcription in gene regulation in cancer cells; 2) design of gene circuits to detect cancer gene expression; 3) chromosomal integrity and modification in cancer development; and 4) the role RNA in the regulation of cell phenotype and cancer.
The second Program theme centers on the diversity in phenotypes that emerge within cancer as a result of genetic variation, metabolism, or other factors in the tumor microenvironment. Areas of research include cell metabolism and its regulation, genetic variation and risk of malignancy, and heterogeneity among cell populations and environments.
Program Co-Leaders: J. Christopher Love, Phillip A. Sharp
Associate Program Leader: Eliezer Calo
Members: Stephen P. Bell, Ed Boyden, Laurie Boyer, Christopher Burge, Lindsay Case, Katie Galloway, Anders Hansen, David Housman, Rudolf Jaenisch, Eric Lander, Daniel Lew, David Page, Aviv Regev, Alex Shalek, Yadira Soto-Feliciano, Matthew Vander Heiden, Ron Weiss, Jonathan Weissman, Richard Young

Program 2: Cancer Biology and Immunology
Program 2 focuses on the cellular and molecular biology of tumors with strong emphases on mechanisms of metastasis and on immune responses to cancer.
Program 2 focuses on the cellular and molecular biology of tumors with strong emphases on mechanisms of metastasis and on immune responses to cancer, reflecting the fact that tumor-intrinsic components interact closely with tumor-extrinsic elements of the microenvironment to affect tumor progression and metastasis. Current research includes three overlapping and complementary themes: cancer biology, cancer immunology, and immune engineering.
Program Co-Leaders: Richard O. Hynes, K. Dane Wittrup
Associate Program Leader: Stefani Spranger
Members: Michael Birnbaum, Jianzhu Chen, Brandon DeKosky, Leonard P. Guarente, H. Robert Horvitz, Darrell J. Irvine, Tyler Jacks, Roger Kamm, Laura Kiessling, Kristin Knouse, Jacqueline A. Lees, Alison Ringel, Francisco Sánchez-Rivera, Robert A. Weinberg, Ömer Yilmaz

Program 3: Systems & Engineering Approaches to Cancer
Program 3 focuses on systems and engineering approaches for cancer therapy and diagnostics.
With a clear focus on systems and engineering approaches for cancer therapy and diagnostics, Program 3 comprises three overlapping, and complementary, themes: 1) new methods for early detection, 2) novel therapeutics and delivery strategies, and 3) biomarkers and systems-based approaches to guide personalized medicine. We want to understand how new technologies, big data, analytics, and machine learning can be used to facilitate the early detection of tumors or tumor recurrence. Can we devise improved delivery mechanisms to enhance uptake of drugs either into tumors or into targeted cells in the microenvironment to modulate the response? Can we find new ways to combine immunomodulatory agents with conventional chemotherapeutics? Can we identify novel vulnerabilities and synthetic lethal combinations that are particular to tumor cells? Can we leverage the dynamics of signaling events within cancers in order to create custom therapeutics? And finally, can we develop devices and approaches that will identify which patients will respond to these novel treatment options?
Program Co-Leaders: Scott Manalis, Michael B. Yaffe
Associate Program Leader: Angela Koehler
Members: Daniel G. Anderson, Regina Barzilay, Angela Belcher, Sangeeta N. Bhatia, Paul Blainey, Michael Cima, Patrick Doyle, Elazer Edelman, Linda G. Griffith, Paula T. Hammond, Michael T. Hemann, Jeremiah Johnson, Amy Keating, Robert S. Langer, Douglas A. Lauffenburger, Bradley Pentelute, Ron Raines, Ram Sasisekharan, Giovanni Traverso, Graham Walker, Forest M. White
Acknowledgements
When publishing or presenting research supported by the Koch Institute's NCI Cancer Center Support Grant please acknowledge P30-CA14051.