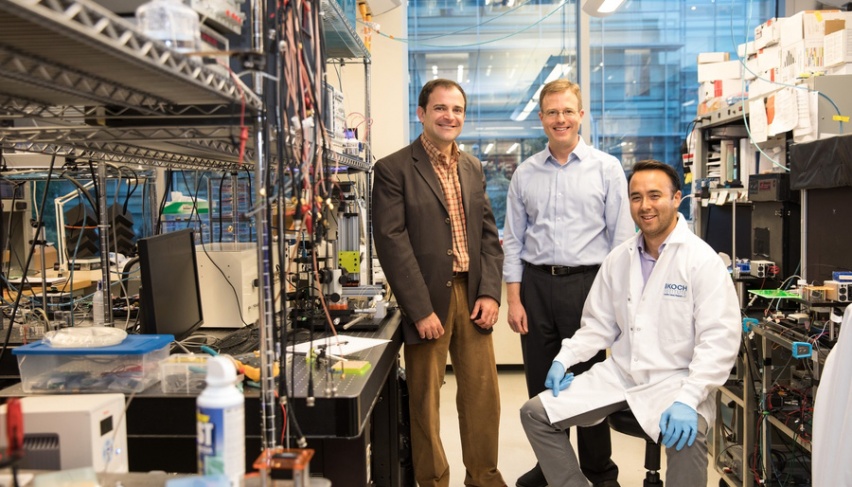 Clinician David Weinstock (left) collaborates with members of the Manalis Lab to better understand and predict patients' response to chemotherapy. Photo: Samara Vise
To keep our research moving between bench and bedside, we work closely with clinicians and physician-scientists, who serve on the frontlines of cancer care every day. Situated in Greater Boston's world-renowned clinical cancer centers and with connections to hospitals around the country, we have built a network of clinical collaborators that provides robust access to clinical perspectives and translational pathways.   
The Koch Institute's clinical collaborations come in all shapes and sizes. Collaborations might be 1:1, a team of investigators, or institutional level programs. Yet, each one helps keep our research grounded in clinical challenges and oriented toward clinical solutions, while giving clinicians access to new technologies and strategies to improve patient outcomes. At the most fundamental level, collaborations might involve sharing models or samples. More often, collaborations involve using tools and devices developed at the Koch Institute to help researchers and clinicians alike understand how a cancer medicine works and which patients will respond, or to administer therapies in more effective ways. 
These collaborations are part of a larger strategy at the Koch Institute to keep clinical perspectives at the heart of what we do, and includes community seminars, clinical investigators, and the Bridge Project collaboration with Harvard teaching hospitals.