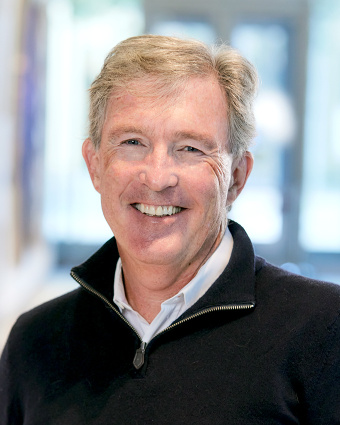 David H. Koch (1962) Professor of Biology
Daniel K. Ludwig Scholar
Co-director, Ludwig Center at MIT
Contact Information
tyler jacks
76-453
(617) 253-0263
jacks Lab
(617) 253-0264
(617) 253-9863
Administrative support
Judy Teixeira
(617) 253-0263
Research Areas
Detection & monitoring, Metastasis, Precision medicine, Immunology & immunotherapy
My interests in cancer research date back to college, including sitting in on a lecture by my now-colleague Bob Weinberg, who would also become my postdoctoral mentor years later.
Research Summary
The Jacks Laboratory studies the genetic events underlying the development of cancer. Professor Jacks has pioneered the use of gene targeting technology in the mouse to study cancer-associated genes and to construct mouse models of many human cancer types. Closely recapitulating human disease, these models have led to novel insights into tumor development and new strategies for cancer detection and treatment.
In the past several years, the lab moved into the area of tumor immunology and utilizing mouse models to understand the interactions between the immune system and cancer. We have further engineered developing tumors in the mice to express model T cell antigens, which serve as targets for tumor-specific T cells and stimulate anti-tumor immune responses. These models offer a unique platform for investigating how anti-tumor immune responses shape tumor gene expression, how tumor evasion mechanisms contribute to the development of advanced disease and are invaluable preclinical models for testing immunotherapeutics.
Recently, we have adopted technologies to generate and culture organoids to closely recapitulate an in vivo microenvironment in tissue culture, but have the capability to more easily manipulate expression of genes of interest. We are able to transplant these organoids into mice to see the longitudinal effects on cancer progression.
Biography
Professor Jacks received his bachelor's degree in biology from Harvard College, and his doctorate from the University of California, San Francisco, where he trained with Nobel Laureate Harold Varmus. Following a post­doctoral fellowship with Robert Weinberg at the Whitehead Institute, he joined the MIT faculty in 1992. From 2001-2021, Professor Jacks served as director of the MIT Center for Cancer Research and its successor, the Koch Institute. He was a Howard Hughes Medical Institute Investigator from 1994-2021 before stepping down to take on his current role as President of the Break Through Cancer Foundation. Jacks received the American Association for Cancer Research (AACR) Outstanding Achievement Award, the AACR Princess Takamatsu Memorial Lectureship, the American Society of Biochemistry and Molecular Biology's Amgen Award, MIT's Killian Award, the Paul Marks Prize for Cancer Research, and the Sergio Lombroso Award in Cancer Research. Jacks was elected to the National Academy of Sciences, the National Academy of Medicine, the American Academy of Arts and Sciences, and the Fellows of the AACR Academy. He served as Chair of the National Cancer Advisory Board at the National Cancer Institute, was a member of the AACR Board of Directors, and was elected president of the AACR in 2009. Jacks is a member of the Board of Directors of Amgen and Thermo Fisher Scientific. He is also a co-Founder of Dragonfly Therapeutics and T2 Biosystems. Professor Jacks serves on the Scientific Advisory Board of Dragonfly Therapeutics, SQZ Biotech, and Skyhawk Therapeutics. He is the President of Break Through Cancer.