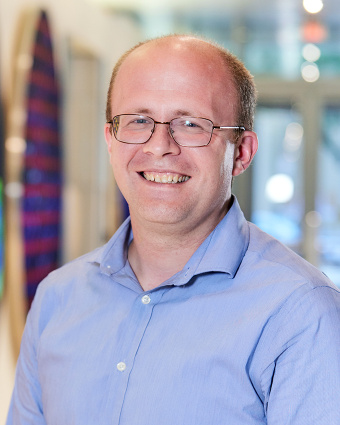 Associate Professor of Biological Engineering
Contact Information
Michael Birnbaum
76-353D
(617) 715-2355
Birnbaum Lab
(617) 715-5686
Administrative Support
Isadora Deese
(617) 324-3938
Research Areas
Precision medicine, Immunology & immunotherapy
I want to build tools to better understand how the immune system "sees" cancer and infection, and use this information to help design the next generation of immunotherapies.
Research Summary
The Birnbaum Laboratory is dedicated to better understanding and manipulating immune recognition in the contexts of cancer and infection. Immense molecular diversity in the T-, B-, and NK-cell receptor repertoires, which the immune system uses to distinguish between normal cells and infected or cancerous cells, has made it challenging to understand exactly what is recognized during the course of an immune response.
Drawing from a wide range of scientific disciplines—including protein engineering, protein biochemistry, cellular immunology, sequencing, and bioinformatics—the Birnbaum group works to elucidate the process of immune response by 1) identifying and sequencing immune receptors of interest, 2) decoding what the immune response is 'seeing' in response to cancer or infection, 3) answering questions about how the immune response composition and dynamics affect the success or failure of an immune response, and 4) developing ways to rewire the signaling and recognition of immune responses. Their findings can be used to engineer new methods for mounting potent immune responses.
Biography
Michael Birnbaum is an associate professor of biological engineering at MIT. He received his bachelor's degree in chemical and physical biology from Harvard University and his PhD from Stanford University. At Stanford, he worked under K. Christopher Garcia, and studied the molecular mechanisms of T cell receptor recognition, cross-reactivity, and activation. After postdoctoral work in Carla Shatz's group at Stanford supported by a Helen Hay Whitney Postdoctoral Fellowship, Birnbaum joined the faculties of MIT and the Koch Institute in 2016. During his tenure at the Koch Institute, Birnbaum has received the AACR-TESARO Career Development Award for Immuno-oncology Research, a Packard Fellowship in Science and Engineering, a Pew-Stewart Scholarship for Cancer Research, a V Scholar Grant from the Jimmy V Foundation, the Michelson Prize for Human Immunology and Vaccine Research, and the Damon Runyon-Rachleff Innovator Award. In October 2020, he received the National Institutes of Health (NIH) New Innovators Award. He is a co-founder of Kelonia Therapeutics and Abata Therapeutics, and is an advisor for both.