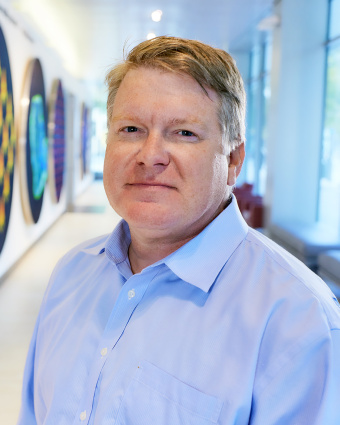 Associate Director, Koch Institute for Integrative Cancer Research
Professor of Biological Engineering and Materials Science and Engineering 
Member, Marble Center for Cancer Nanomedicine
Investigator, Howard Hughes Medical Institute
Contact Information
darrell j. irvine
76-261
(617) 452-4174
irvine Lab
Administrative support
Valerie A. Corapi
(617) 253-5819
Research Areas
Nano-based drugs, Detection & monitoring, Immunology & immunotherapy
Professor Irvine develops technologies that boost the immune system's ability to fight cancer in order to create safer, more effective immunotherapies.
Research Summary
Engineering approaches grounded in immunology hold the key to novel treatments for cancer, infectious disease, and autoimmunity. To this end, the overarching goal of the Irvine Laboratory is to engineer immunity through a fusion of immunology with biotechnology and materials chemistry, employing an engineering-centric approach to create new therapies based on the controlled modulation of the immune system. These efforts are driven by the pursuit of a deep understanding of immunological mechanisms of action, using biology as the guide to our technology development. We have two primary research foci—developing technologies to enhance vaccine-elicited immunity and engineering cancer immunotherapies.
Biography
Darrell Irvine obtained an Honors Bachelor's degree in engineering physics from the University of Pittsburgh. As a National Science Foundation graduate fellow, he then studied Polymer Science at the MIT. Following completion of his PhD, he was a Damon Runyon-Walter Winchell postdoctoral fellow in immunology at the Beckman Center for Molecular and Genetic Medicine. He is presently a professor at the Massachusetts Institute of Technology and an investigator of the Howard Hughes Medical Institute. He is also an Associate Director for the Koch Institute and serves on the steering committee of the Ragon Institute of MGH, MIT, and Harvard. Irvine is the founder of Elicio Therapeutics, Strand Therapeutics, and Ankyra Therapeutics. He serves on the Scientific Advisory Boards of the MGH Cancer Center, the University of Toronto Medicine by Design Consortium, SQZ Therapeutics, Venn Therapeutics, Alloy Therapeutics, Livzon Pharmaceuticals, STIMIT Therapeutics, and Repertoire Immune Medicines.