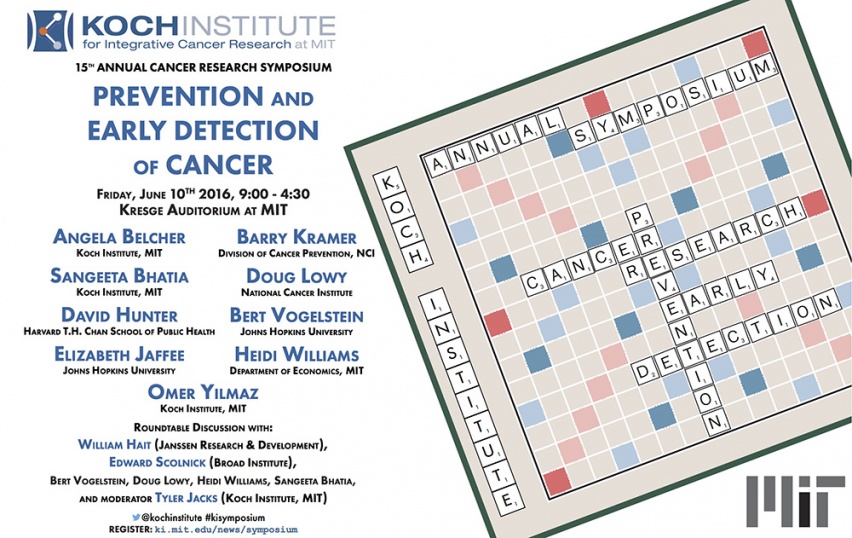 As much as 70% of cancer worldwide may be preventable. In fact, despite enormous progress in treatment, it is likely that the greatest reduction in cancer deaths to date is the result of cancer prevention and early detection. New technologies, combined with advances in understanding the genetics and cell biology of cancer, could help to further reduce the burden of cancer through simpler, cheaper, more precise, and more efficient approaches. This one-day symposium will include discussion of how to accelerate our efforts to find and intercept disease at the earliest possible stage, and, ideally, prevent many cancers altogether.
Agenda
Introductory Remarks
Tyler Jacks, Koch Institute, MIT (watch video)
Nancy Hopkins, Koch Institute, MIT (watch video)
Edward Scolnick, Stanley Center for Psychiatric Research, Broad Institute (watch video)
---
Session I
Moderated by Matthew Vander Heiden, Koch Institute, MIT
Bert Vogelstein, Johns Hopkins University
Cancer genomes and their implications for prevention
Watch video
Angela Belcher, Koch Institute, MIT
Interfacing biology and engineering to find tiny ovarian tumors
Watch video​

Barry Kramer, Division of Cancer Prevention, NCI
Principles of cancer screening: The clash between science and intuition
Watch video

Doug Lowy, National Cancer Institute
The HPV vaccine: FDA approval was only the beginning
Watch video
Sangeeta Bhatia, Koch Institute, MIT
Activity-based biomarkers for noninvasive cancer detection
Watch video
---
Panel Discussion: Challenges for implementing early detection and prevention research
Sangeeta Bhatia, William Hait (Janssen Research & Development), Doug Lowy, Edward Scolnick, Bert Vogelstein, and Heidi Williams
Moderated by Tyler Jacks
---
Session II
Moderated by J. Christopher Love, Koch Institute, MIT
David Hunter, Harvard T.H. Chan School of Public Health
The realistically preventable fraction of cancers worldwide
Watch video
Elizabeth Jaffee, Sidney Kimmel Cancer Center at Johns Hopkins University
Vaccine-induced immunity against non-viral cancer genes to prevent pancreatic cancer
Watch video
Omer Yilmaz, Koch Institute, MIT
Dietary control of stem cells in obesity and cancer
Watch video
Heidi Williams, Department of Economics, MIT
Do firms underinvest in long-term research? Evidence from cancer ciinical trials
Watch video
---
Closing Remarks
Tyler Jacks, Koch Institute, MIT (watch video)
We gratefully acknowledge our:
Affiliates
Janssen Research & Development, LLC
Omega Funds
Thermo Fisher Scientific
Collaborators
Agilent Technologies
GE Healthcare Life Sciences
Grail
Third Rock Ventures, LLC
Sponsors
Alnylam Pharmaceuticals
Calico
Cell Signaling Technology, Inc.
Genentech, Inc.
Molquant, Inc.
New England Biolabs
Wilson Sonsini Goodrich & Rosati
Vendors
ACEA Biosciences
Beckman Coulter
BioLegend
BioTek Instruments
Cell Press
Cell Signaling Technology, Inc.
Kapa Biosystems
Macrogen Corporation
MilliporeSigma
Nexcelom
PeproTech, Inc.
Qiagen
Transnetyx, Inc.