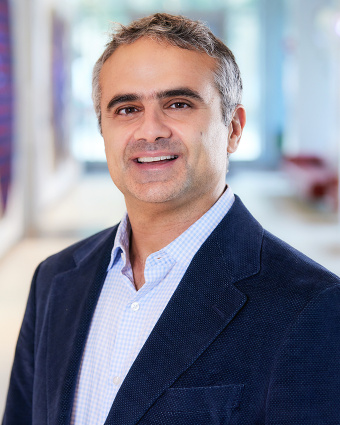 Associate Professor of Biology
Contact Information
Ömer H. Yilmaz
76-553G
(617) 324-7633
yilmaz Lab
(617) 324-7844
Administrative support
Elizabeth Galoyan
(617) 253-3016
Research Areas
Metastasis, Precision medicine
Professor Yilmaz studies and models the effects of various diets in tissue regeneration, aging, and cancer initiation.
Research Summary
My laboratory studies how adult stem cells and their microenvironment adapt to various diets in the context of tissue regeneration, aging, and cancer initiation. In particular, we are studying how diverse dietary interventions impact intestinal stem cell (ISC) and progenitor function in the mammalian intestine.
Because ISCs, like all adult stem cells, possess the ability to self-renew and the capacity for differentiating into tissue-specific cell types, they likely play an important role in remodeling the intestine in response to diet-induced physiologies. By comparing how ISCs and their surrounding cells adapt to diverse nutrients, we gain a deeper understanding of how the intestine integrates physiology with its growth and why some diets reduce or increase the risk of colon cancer. In addition, my lab has developed numerous tools and techniques to better model colon cancer, including the generation of CRISPR/Cas9 genome-edited intestinal cancer organoids and endoscopic methods for mucosal-directed CRISPR/Cas9 genome editing. With such methods, it now possible to robustly model the various steps of intestinal tumorigenesis from early precursor lesions to liver metastasis. These tools and approaches enable us to dissect how different dietary states, aging, and the gut microbiome influence tumor initiation, growth, metastasis, and drug resistance.
Biography
Ömer Yilmaz is the Eisen and Chang Career Development Associate Professor of Biology at the Koch Institute for Integrative Cancer Research at MIT and a gastrointestinal pathologist at the Massachusetts General Hospital and Harvard Medical School. He is a graduate of the University of Michigan Medical School, where he performed his thesis work under the guidance of Professor Sean Morrison. He also spent three years as a postdoctoral fellow in the laboratory of Dr. David M. Sabatini. In 2014 he established his lab, which focuses on understanding how intestinal stem cells and their microenvironment adapt to diverse diets in the context of tissue regeneration, aging, and cancer initiation and progression. His achievements, to date, have been recognized with a Harold Weintraub Award (2007), a V Scholar Award (2015), a Pew-Stewart Trust Fellowship (2016), a Sidney Kimmel Fellowship (2016), a Sabri Ulker International Science Prize (2018), and a AAAS Martin and Rose Wachtel Cancer Research Prize (2018).