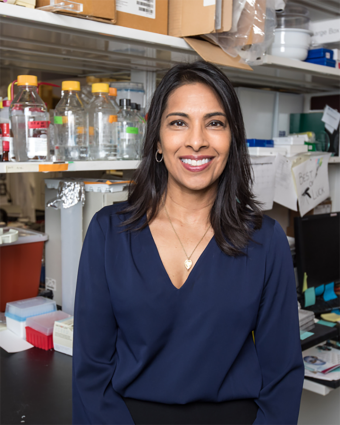 John J. and Dorothy Wilson Professor of Health Sciences and Technology and of Electrical Engineering and Computer Science
Director, Marble Center for Cancer Nanomedicine
Member, Ludwig Center at MIT
Investigator, Howard Hughes Medical Institute
Institute Member, Broad Institute of MIT and Harvard
Associated Faculty, Wyss Institute
Biomedical Engineer, Brigham and Women's Hospital, Department of Medicine
Contact Information
Sangeeta N. Bhatia
76-453
(617) 253-0893
Bhatia Lab
(617) 324-0610
(617) 324-0740
Administrative support
Sue Kangiser
(617) 253-0893
Research Areas
Nano-based drugs, Detection & monitoring, Metastasis, Precision medicine, Immunology & immunotherapy
Our laboratory conducts research at the intersection of engineering, medicine, and biology to develop novel platforms for understanding, diagnosing and treating human disease. Our long-term goals are to improve cellular therapies for liver disease and to develop nanotechnology for the diagnosis and treatment of cancer.
Research Summary
The Bhatia Laboratory engineers micro and nanotechnologies, also called "tiny technologies," to address complex challenges in human health ranging from cancer to liver disease and acquired infections. Operating at the interface of living and synthetic systems, the Bhatia group uses these miniaturization tools to improve areas of medicine including diagnostics, drug delivery, tissue regeneration, and disease modeling. In cancer, Bhatia's multidisciplinary team develops tools for use in diagnostics and detection, and in precision therapeutics to specifically target tumors. Nanosensors designed by the Bhatia team are capable of detecting and profiling very early-stage tumors, and can be analyzed via a simple urine test. The same technology may also yield insights into a tumor's response to certain therapies. The Bhatia Lab has also created human microlivers, which model human drug metabolism, liver disease, and interaction with pathogens.
Biography
Sangeeta N. Bhatia MD, PhD is an inventor, Massachusetts Institute of Technology professor and biotech entrepreneur who adapts technologies developed in the computer industry for medical innovation. At MIT, she is the John J. and Dorothy Wilson Professor of Engineering, Director of the Marble Center for Cancer Nanomedicine at the Koch Institute for Integrative Cancer Research, and Investigator of the Howard Hughes Medical Institute. Trained as both a physician and engineer, Bhatia's laboratory leverages miniaturization tools from the computer industry for medical innovation with applications in liver disease, cancer and infectious diseases. She and her over 150 trainees have contributed to more than 50 issued or pending patents, launched multiple biotechnology companies to improve human health, and published more than 200 peer-reviewed papers. Bhatia was the 25th person in history to be an elected member of all three US National Academies: NAS, NAM, and NAE. She has been honored with the Lemelson-MIT Prize (known as the "Oscar" for inventors), the Heinz Medal, and the Othmer Gold Medal for groundbreaking inventions and advocacy for women in STEM fields. She has presented her vision for the application of engineering solutions to solve medical problems on international stages such as the World Economic Forum, TED, the Gates Grand Challenges, and the Biden Cancer Moonshot. She currently serves as a Trustee at Brown University and Director at Vertex Pharmaceuticals.
Bhatia is a board member of Brown University, Vertex Pharmaceuticals*, Port Therapeutics* and Ropirio Therapeutics*. She has an advisory role with Global Oncology, Sunbird Bio*, Satellite Bio*, Matrisome Bio*, Xilio Therapeutics, Danaher, Catalio Capital, Pictet, Ochre Bio, and Amplifyer Bio*. She has a consulting role at Moderna Therapeutics, and receives sponsored research funding from Johnson & Johnson, Revitope, and Owlstone.
*Dr. Sangeeta Bhatia holds equity in these institutions