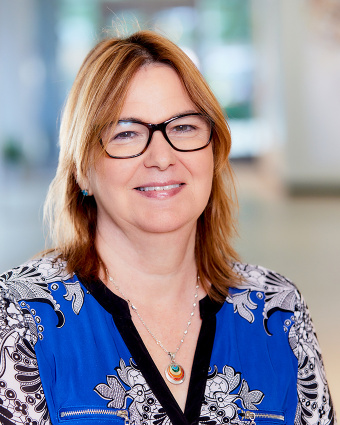 James Mason Crafts Professor
Professor of Biological Engineering
Contact Information
angela M. belcher
76-561
(617) 324-2800
belcher Lab
617) 324-3400
(617) 258-6558 
Administrative Support
Peter Jansen
(617) 252-1163
Research Areas
Nano-based drugs, Detection & monitoring, Immunology & immunotherapy
I have a passion to make an impact in early diagnosis and treatment of ovarian cancer.
Research Summary
The Belcher Laboratory seeks to understand and harness nature's own processes in order to design technologically important materials and devices for energy, the environment, and medicine. Using directed evolution, the Belcher group is engineering organisms to grow and assemble novel hybrid organic-inorganic electronic and magnetic materials, capitalizing on valuable properties of nature and biological processes such as non-toxicity and self-repair mechanisms, as well as adaptation and evolution. To date, their materials have been utilized in areas ranging from batteries and solar cells to carbon dioxide capture and storage, and in the development of new imaging systems to detect tiny tumors to improve outcomes for cancer patients.
Recently, the Belcher group has developed both new probes for second-window near-infrared imaging and a whole-animal NIR-II imaging system. They have promising data for imaging tumors in both ovarian and brain cancer for detection of 1/2 millimeter-sized tumors, and ovarian cancer animal studies have shown a 40% increase in median survival using this new technology. The Belcher Lab has also developed a new optical imaging system to facilitate non-invasive, in vivo cellular-level imaging of whole mice and rats, with a demonstrated depth of 6 centimeters in muscle tissue.
Biography
Angela Belcher is a materials scientist, biological engineer, and professor at MIT. She attended the University of California, Santa Barbara, where she received her bachelor's degree from the College of Creative Studies in 1991 and her PhD in chemistry in 1997. Belcher was awarded the 24th annual MacArthur Foundation Fellowship, and the 2004 Four Star General Recognition Award. In 2006 she was named Scientific American's Research Leader of the Year.
Her work has been published in many prestigious scientific journals including Science and Nature, and has been reported in the popular press including Fortune, Forbes, Discover, The New York Times, and The Wall Street Journal. Professor Belcher is a member of the National Academy of Inventors (NAI), the National Academy of Engineers (NAE), the American Academy of Arts and Sciences and winner of the 2013 MIT-Lemelson Prize.