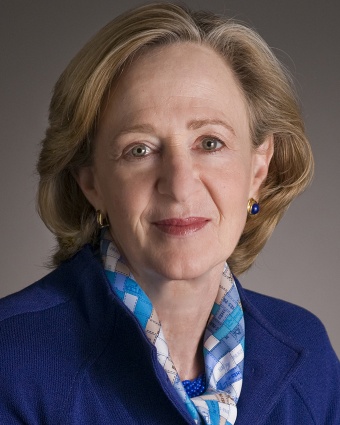 President Emerita, MIT
Professor of Neuroscience
Member, Koch Institute for Integrative Cancer Research
Member, MIT Energy Initiative
Joint Professor of Work and Organization Studies, MIT Sloan School of Management
Contact Information
Susan hockfield
76-461
(617) 253-7284
Hockfield Lab
(617) 258-6088
Administrative support
Leslie S. Price
(617) 253-7005
Physicists gave engineers the electron and they created the IT revolution. Biologists gave engineers the gene and together they will create the future.
Research Summary
President Emerita Susan Hockfield has distinguished herself in a career spanning advanced scientific research and the presidency of one of the world's premier institutions of science and engineering. As president, Hockfield shaped national policy on energy technology and manufacturing, championing breakthroughs in fields from clean energy to cancer. At MIT, this vision drove several new initiatives, including the founding of the Koch Institute for Integrative Cancer Research and the MIT Energy Initiative.
Hockfield, with her office now at the Koch Institute, continues to champion causes for which she has a long-standing passion: new technologies emerging from the convergence of the life, physical, and engineering sciences; the advancement of women in science and technology; and support for the national research agenda. Her 2019 book, The Age of Living Machines, describes how the convergence of biology with engineering will change our world for the better, and received a 2020 Science Communication Award from the American Institute of Physics.
As a scientist, Hockfield pioneered the use of monoclonal antibody technology in brain research to identify proteins whose expression is regulated by neuronal activity early in an animal's life. Her work included the discovery of a gene implicated in the spread of cancer in the brain, providing a link between her research and human health.
Biography
s Professor of Neuroscience and President Emerita at MIT. As the sixteenth president (2004-2012), she was the first woman and the first life scientist to lead the Institute. After earning degrees from the University of Rochester and Georgetown University School of Medicine, Hockfield was an NIH postdoctoral fellow at the University of California at San Francisco before joining the scientific staff at the Cold Spring Harbor Laboratory. In 1985, Hockfield became a faculty member at Yale University, where she was the William Edward Gilbert Professor of Neurobiology, Dean of the Graduate School of Arts and Sciences (1998-2002), and Provost (2003-2004). Her research focused on brain development and glioma, pioneering the use of monoclonal antibody technology in brain research. Hockfield is a fellow of the American Academy of Arts and Sciences and the American Association for the Advancement of Science; she recently served as president and chairman for the latter. She is a life member of the MIT Corporation and a board member of the Belfer Center at the Harvard Kennedy School. She has served as a Science Envoy with the U.S. Department of State and a member of a Congressional Commission evaluating Department of Energy laboratories.
Hockfield serves as a director of Cajal Neuroscience, Break Through Cancer, Fidelity Non-Profit Management Foundation, Lasker Foundation, Mass General Brigham Incorporated, Pfizer, Inc., Repertoire Immune Medicines, and Whitehead Institute for Biomedical Research.