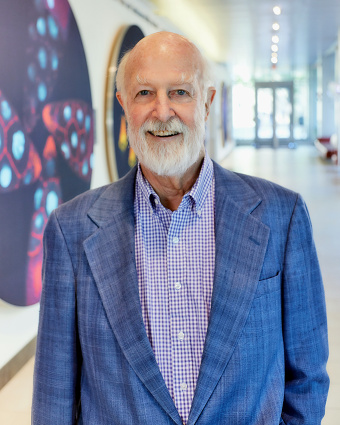 Daniel K. Ludwig Professor for Cancer Research
Professor of Biology
Member, Ludwig Center at MIT
Member, Broad Institute of MIT and Harvard
Contact Information
richard hynes
76-361
(617) 253-6422
Administrative Contact
hynes Lab
(617) 253-3025
(617) 253-8357
Laboratory  Administrative Support
Xiaotie Liu
(617) 253-6409
Research Areas
Detection & monitoring, Metastasis, Immunology & immunotherapy
We seek to understand the multiple roles of cell-cell and cell-matrix adhesion in development, vascular biology and cancer, which converge in metastasis, the "killer" phase of cancer. 
Research Summary
Cells adhere to their neighbors and to extracellular matrix (ECM), which surrounds most cells in the body. Cell adhesion contributes to cellular organization and structure, proliferation, migration and survival, necessary for numerous physiological processes and is perturbed in many diseases. We seek to understand the proteins involved in cell-ECM adhesion and the ways they control cells in both normal and pathological processes. We are particularly interested in understanding metastatic spread of cancer cells throughout the body and the multiple functions of ECM during cancer progression. We investigate changes in both the tumor cells and their surrounding microenvironment, or niche, which includes both normal cells and ECM. The matrix changes extensively during tumor progression and metastasis, and the lab is a leader in analyzing these changes. ECM in the tumor microenvironment provides signals for growth and survival and enhances resistance to radio- and chemo-therapy; one of the challenging aspects of cancer therapy. The laboratory has developed nanobodies to ECM proteins elevated in the metastatic niche and shown that they selectively image tumors, including early lesions and metastases using PET/CT and other imaging methods. This selective targeting of tumor ECM can also be used to deliver therapeutic agents to tumors and metastases.
Biography
Professor Hynes is the Daniel K. Ludwig Professor for Cancer Research at MIT. He received his bachelor's degree in biochemistry from the University of Cambridge, and his doctorate in biology from MIT. After postdoctoral work at the Imperial Cancer Research Fund in London, he returned to MIT as a founding faculty member of the MIT Center for Cancer Research. He later headed MIT's Biology Department, and served as Director of the MIT Cancer Center, now the Koch Institute. Hynes is a Fellow of the Royal Society of London, the American Academy of Arts and Sciences, the American Association for the Advancement of Science, and a member of the US National Academies of Science and Medicine. He received the Albert Lasker Basic Medical Research Award, the Canada Gairdner International Award, the Pasarow Foundation Medical Research Award, the Benditt Award from the North American Vascular Biology Organization, the E.B. Wilson Medal from the American Society for Cell Biology (ASCB) and the David Rall medal from the National Academy of Medicine. He co-chaired key NAS Committees on Human Embryonic Stem Cells and on Human Genome Editing. He is currently on the MGH Executive Committee on Research and the Rosenstiel Award Selection Committee and advisory boards of Genentech and Amgen. Hynes serves on the Scientific Resource Board of Genentech, the Research Trends and Emerging Technologies Advisory Board of Amgen, and the Scientific Advisory Board of Blade Therapeutics.