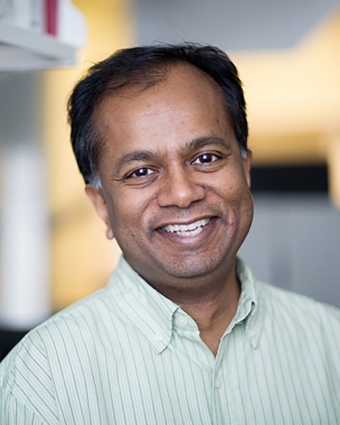 Alfred H. Caspary Professor of Biological Engineering & Health Sciences and Technology
Contact Information
ram sasisekharan
76-461
(617) 258-9494
sasisekharan Lab
(617) 253-7666
(617) 258-9409
Administrative support
Ada Horlander
(617) 258-7282
Research Areas
Precision medicine, Immunology & immunotherapy
My lab's research and efforts are focused on translating our work to see how best we can help patients—especially by getting therapies to humans as rapidly as possible. An equally important focus of our efforts is to address therapies' access and affordability.
Research Summary
The cell is not an island—glycans decorate the cell surface and make up a significant part of the extracellular environment and interactions between cell and its environment including other cells and pathogens are mediated by glycan-protein interactions. Our laboratory's research involves developing computational, structural, analytical and biological tools to decode the structure-function relationships of complex glycans and their interactions with proteins in diverse diseases including cancer, cardiovascular and infectious diseases.
Our lab's unique approach to integrate diverse analytical tools to decode structure-function relationships of glycan protein interactions enabled technologies that formed the basis for regulatory science to develop generic versions of complex drugs whose active ingredients are mixture of complex glycans or peptides, which led to creation of Momenta pharmaceuticals that was acquired in 2020 by Johnson and Johnson (for $6.5 billion).
For over a past decade, our lab has been building novel tools using network approach for engineering proteins specifically antibodies to bind with specificity and high affinity to specific target epitopes so as to maximize their therapeutic potential. Importantly, the technology platforms developed by our lab has dramatically shortened the timelines for clinical development of antibodies to a few months from what traditionally used to take years for development. These technologies led to creation of Visterra Inc., which was acquired by Otsuka pharmaceuticals (for $430 million) and Tychan Ltd. in Singapore, that brought multiple antibodies that effectively neutralize emerging pathogens such as Zika Virus, Yellow Fever Virus, and SARS-COV-2 successfully to the clinic in 6-9 months.
Building on the successes of our past journeys, our lab continues to focus on developing and enabling tools and technologies that integrate computational tools such as state-of-the art machine learning algorithms, structural tools, integrated analytical methods and foundational regulatory science towards rapidly developing biopharmaceutical therapeutics and other complex drugs.
Biography
Ram Sasisekharan has been a professor of Biological Engineering at MIT since 1996 and is now the Alfred H. Caspary Professor of Biological Engineering and Health Sciences and Technology. He was the Edward Hood Taplin Professor of Health Sciences & Technology and Biological Engineering and Director of Harvard-MIT Division of Health Sciences and Technology from 2008-2013. He was also lead Investigator for the MIT-Skoltech Biomedical Engineering Center, and a principal investigator in the Infectious Diseases Interdisciplinary Research Group of the SMART Centre in Singapore. Dr. Sasisekharan has published over 190 manuscripts and filed 90 United States patents (or applications).
Professor Sasisekharan has won numerous awards. These honors include prizes from both the Beckman Foundation and Burroughs Wellcome Trust Young Investigator, as well as his receipt of the Princess Chulabhorn Gold Medal in 2007. In 2009 he was elected Fellow to the American Institute for Medical and Biological Engineering (AIMBE) and in 2010, he recieved the U.S National Institutes of General Medical Sciences MERIT Award. In 2014, he was elected Fellow of the U.S National Academy of Inventors. He was awarded the Aligent Technologies "Thought Leader" Award in 2017.
He received his BS in Physical Sciences from Bangalore University, his MS in Biophysics from Harvard University, and his PhD in Medical Sciences from Harvard Medical School.
Professor Sasisekharan has founded 6 biotechnology companies. These businesses include Momenta Pharamaceuticals (acquired by J&J for USD 6.5 Billion) and Cerulean Pharmaceuticals. Later, he also founded Visterra Inc. (acquired by Otsuka Pharmaceuticals for about USD 0.5 Billion) with a focus on infectious disease therapeutics. He also co-founded Tychan Pte., Ltd. (in Singapore), which was focused on rapid response to infectious diseases.
Professor Sasisekharan has been, and remains, a consultant to numerous biotechnology companies as well as serving on the advisory board of biotechnology companies, venture funds, and non-profit institutions involved in translational life-sciences innovations.