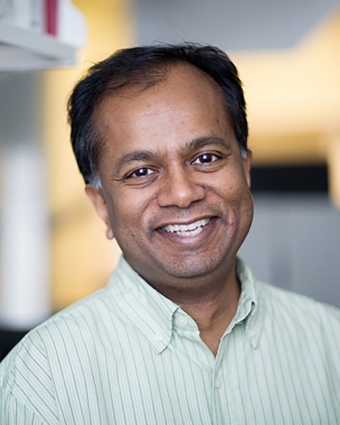 Alfred H. Caspary Professor of Biological Engineering & Health Sciences and Technology
Contact Information
ram sasisekharan
76-461
(617) 258-9494
sasisekharan Lab
(617) 253-7666
(617) 258-9409
Administrative support
Ada Horlander
(617) 258-7282
Research Areas
Precision medicine
Professor Sasisekharan studies how cell function is regulated by the extracellular environment, and develops antibody engineering tools for infectious disease and cancer.
Research Summary
No cell is an island—our laboratory's focus is understanding how cell function is regulated by the extracellular environment. In particular, we study glycosaminoglycans (GAGs), the polysaccharide component of the extracellular matrix, which are believed to regulate biological processes including morphogenesis, angiogenesis, and tumor growth.
Using GAGs as a model system, our vision is to focus and develop on the one hand, a programmatic approach to investigate important questions addressing the biological roles and significance of these complex molecules. On the other hand, this strategy is built with the idea of plausible technological applications in mind, which include the development of much desired novel and powerful tools and agents for both diagnostic as well as therapeutic needs for unmet medical conditions. We are also working to generate novel pharmacological approaches to modulate cell function for the treatment of diseases, and hope that the novel approaches we are developing to study molecular influences will be applicable to other components of the complex extracellular milieu.
Biography
Ram Sasisekharan has been a professor of Biological Engineering at MIT since 1996 and is the current Alfred H. Caspary Professor of Biological Engineering and Health Sciences and Technology. He served as director of the Harvard-MIT Division of Health Sciences & Technology from 2008 to 2012. His research on complex polysaccharides has led to over 125 publications and over 50 patents. He has won both the Burroughs Wellcome and Beckman Foundation Young Investigator Awards; was the recipient of the 1998, 1999, 2000, and 2001 CaPCure Awards from the CaPCure Foundation; was honored with the Princess Chulabhorn Gold Medal Award in 2007; and received a National Institutes of General Medical Sciences MERIT Award in 2010. He received his BS in Physical Sciences from Bangalore University, his MS in Biophysics from Harvard University, and his PhD in Medical Sciences from Harvard Medical School. Dr. Sasisekharan is a founder of Momenta Pharmaceuticals (NASDAQ: MNTA), Cerulean Pharma, and Visterra Pharmaceuticals.