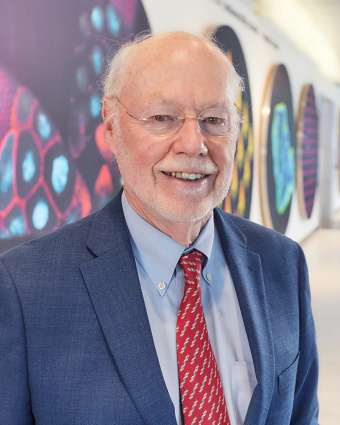 Institute Professor and Professor of Biology Emeritus
Contact Information
phillip a. sharp
76-461A
(617) 253-6421
sharp Lab
(617) 253-6458
(617) 253-3867
Administrative support
Julia Liberman
(617) 253-6425
Research Areas
Precision medicine
Advances in foundational biological science have empowered progress in the diagnosis and treatment of cancer. Insights about the roles of condensates formed by phase transitions are such an advance.
Research Summary
We are investigating the roles of RNAs in the regulation of transcription of genes by RNA Polymerase II. Sequence-specific transcription factors regulate transcription by binding at enhancer and promoter sites. These enhancer sites can be at large distances from genes and are also sites of transcription producing eRNAs. Recent evidence indicates that these RNAs facilitate formation of a condensate that concentrates polymerase and other factors, producing a burst of elongating polymerase. We are developing technology to detect eRNAs in single cells to integrate the dynamics of condensate formation into cellular physiology. In addition, we are investigating computational methods to identify intron and exon sequences that are important for accurate splicing and for control of alternative RNA splicing. RNA binding proteins, snRNPs, and regulatory factors control formation of condensates encompassing introns and exons to execute intron removal through formation of a spliceosome. We are investigating the relationship between condensate formation and chromatin structure, transcription and RNA binding factors in control of alternative RNA splicing.
Biography
Phillip A. Sharp, an Institute Professor emeritus at MIT, is a member of the Department of Biology and the Koch Institute for Integrative Cancer Research. He joined the Center for Cancer Research in 1974, serving as director from 1985 to 1991 before becoming head of the Department of Biology for eight years.
He was founding director of the McGovern Institute from 2000 to 2004. Sharp has authored over 500 papers. He is an elected member of the National Academy of Sciences, the National Academy of Medicine, the American Academy of Arts and Sciences, the American Philosophical Society, and the Royal Society, UK. Among his many awards are the Gairdner Foundation International Award, the Lasker Basic Medical Research Award, and the National Medal of Science. His long list of service includes the presidency of the AAAS and Chair of the Scientific Advisory Committee, SU2C Project, AACR. A native of Kentucky, Sharp earned a BA from Union College, Barbourville, KY, and a PhD in chemistry from the University of Illinois, Urbana-Champaign in 1969. His work studying the molecular biology of gene expression relevant to cancer and the mechanisms of RNA splicing earned Sharp the 1993 Nobel Prize in Physiology or Medicine.
Sharp is a member of the board of directors of the Whitehead and Broad Institutes, the Gairdner Foundation (Canada), and chairs the advisory boards of Fidelity Biosciences Group, SU2C/AACR Scientific Review Committee, ReMedy/IMol Institute (Poland), the MIT Museum, and the Jameel Clinic at MIT. Sharp is a co-founder of Biogen and of Alnylam Pharmaceuticals Inc. He is chairman of the scientific advisory board and member of the board of directors, Alnylam Pharmaceuticals; advisor and investor, Longwood and Polaris Venture Funds; member of the board of directors, Vir Biotechnology; and member of the scientific advisory board, Danahers, Dewpoint Therapeutics and Skyhawk Therapeutics.