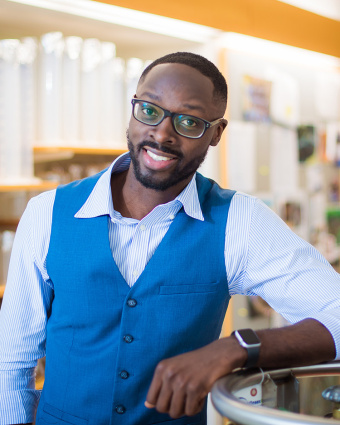 Koch Institute Affiliated Fellow
Valhalla Fellow, Whitehead Institute
Contact Information
Tobiloba Oni
WI-301B
(617) 258-5125
Administrative Support
Beverly Dobson
(617) 258-5124
Research Areas
Precision medicine, Immunology & immunotherapy
Dr. Oni seeks new methods of understanding, detecting, and potentially treating pancreatic cancer, focusing on immune mechanisms and immunotherapy response.
Research Summary
The Oni lab seeks to uncover the elements of effective anti-tumor immunity and develop novel antibody-based tools to induce tumor clearance by immune effector cells. The lab focuses on pancreatic cancer, a highly lethal malignancy with limited treatment options, with the ultimate goal of inspiring the development of breakthrough therapies for this deadly disease. Oni's graduate work focused on developing tools for the early detection of pancreatic cancer, and on identifying the mechanisms that drive malignant progression—which can become targets for new therapeutics. He also helped develop one of the first mouse and human organoid models of pancreatic cancer, which he used to identify tumor-specific metabolic vulnerabilities and resistance pathways. His current work focuses on uncovering mechanisms for the poor anti-tumor immune response to pancreatic cancer, and developing novel ways of promoting tumor clearance by immune cells. He hopes to uncover new avenues and develop tools for targeting pancreatic cancer in order to improve patient outcomes, inspire and mentor the next generation of scientists from diverse backgrounds, and build collaborative networks across disciplines to solve some of the most challenging biological questions.
Biography
Oni grew up in Ikare-Akoko, Nigeria, earned a BS in biology in 2011 from the State University of New York at Plattsburgh and a PhD in cell and molecular biology in 2020 from Stony Brook University, where he was selected as a Scholar in Biomedical Science. He performed his graduate research with David Tuveson, director of the Cold Spring Harbor Laboratory (CSHL) Cancer Center. Oni joined the Whitehead Institute as a Whitehead Fellow in 2021 and is an extramural member of the Koch Institute.