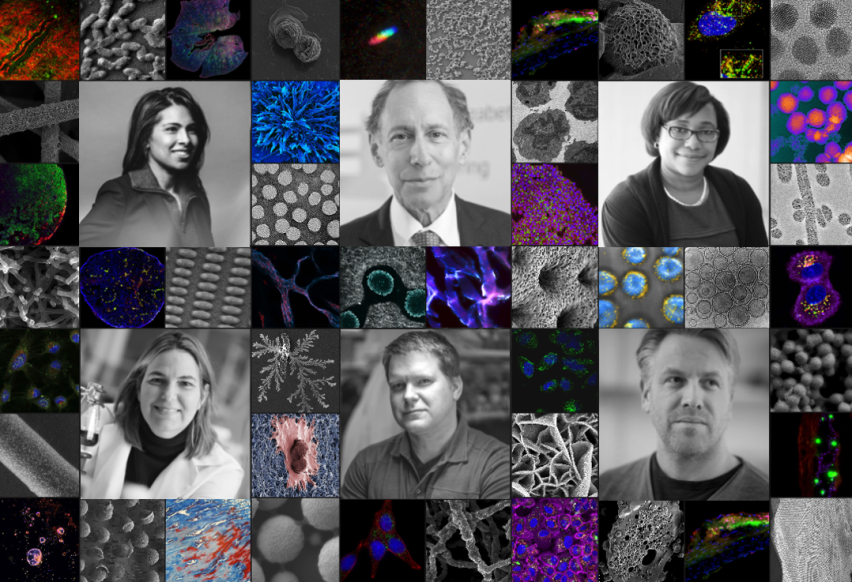 Clockwise from top left: Marble Center for Cancer Nanomedicine faculty members Sangeeta Bhatia, Robert Langer, Paula Hammond, Daniel Anderson, Darrell Irvine, and Angela Belcher
MIT Koch Institute
May 6, 2022
The Marble Center for Cancer Nanomedicine—housed within the Koch Institute for Integrative Cancer Research at MIT—announces the launch of an affiliate program that will fuel scientific collaborations between academic and industry members and enable breakthrough innovations in all areas impacted by nanomedicine, from drug delivery to gene editing, biomedical imaging, and diagnostics. Inaugural members of this program are Alloy Therapeutics, Danaher Corporation, FUJIFILM Holdings America Corporation, and Sanofi.
The Industry Affiliate Program at the Marble Center in Nanomedicine (IAMNano) will provide its members with exclusive access to a thriving research community at the Koch Institute and flagship initiatives such as the Convergence Scholars Program, as well as create opportunities for formal scientific collaborations with member laboratories. The Marble Center will also launch an Industry Advisory Board to leverage insight and business development expertise as part as of its broader efforts to accelerate biomedical innovations toward clinical applications. Tarek Fadel, Assistant Director of the Marble Center, has spearheaded efforts to create the unique partnership model at IAMNano and will provide dedicated support to member organizations.
"We see this initiative as part of our natural evolution as a community of excellence in nanomedicine," said Koch Institute member and Marble Center Director Sangeeta N. Bhatia, the John J. and Dorothy Wilson Professor of Health Sciences and Technology and Electrical Engineering and Computer Science. "For the past six years, our priority has been to seed world-class research, catalyze scientific exchange and innovation, and invest in the development of a multifaceted research community. The design of IAMNano was guided by many discussions in and outside of MIT, including input from an external review board that helped us shape the program's current design. We look forward to working with our new industry partners to grow the Marble Center as a hub in nanomedicine and help shape the future of the field for years to come."
Chris Pacheco, General Partner at 82VS, Alloy Therapeutics' Venture Studio, added: "Alloy Therapeutics is committed to investing in enabling technologies that allow the best treatments to get to patients, and we recognize that breakthroughs in drug delivery technology are essential to that effort. Our Venture Studio partners with promising scientific entrepreneurs to create innovative therapeutic companies, and we are eager to support the advances from the Marble Center for Cancer Nanomedicine, already a leader in translational technologies and rising nanomedicine inventors."
"As a science and technology leader, Danaher Corporation recognizes just how important it is to invest in platform technologies that will one day be instrumental in delivering nucleic acid and cell-based therapeutics to patients. At Danaher, we enable cell and genomic medicines manufacturing, and we are committed to advancing the very best ideas—those that result in products that improve patients' lives." said Vanessa Almendro, Head of Innovation Ecosystems at Danaher Corporation. "Collaborating with the IAMNano community furthers our ambitions to develop transformative technologies and to prepare the next generation of nanomedicine scientific leaders."
"At Fujifilm we are committed to advancing the field of life science research with the goal of supporting all stages of therapeutic development," notes Bruce E. Novich Sc.D., Division President, FUJIFILM Holdings America Corporation and member, Fujifilm Life Science Strategic Business Office, based in Cambridge, Mass. "We firmly believe that the only way to advance progress in this field is to collaborate with other leaders in the industry and academia. IAMNano presents us with the environment to share research developments to bring new and life-changing innovative treatments to patients faster."
Christian Mueller, Global Head of Genomic Medicine Unit, at Sanofi, commented: "Sanofi's participation in the Marble Center for Cancer Nanomedicine supports our mission to develop innovative cell and gene therapies. Through this program we envision creating strong partnerships and collaborations with the Marble Center research community and other affiliate members that will accelerate the research and development of nanomedicine approaches across a broad range of diseases."
About the Marble Center for Cancer Nanomedicine. The Marble Center for Cancer Nanomedicine, established in 2016 through a generous gift from Kathy and Curt Marble '63, brings together faculty members—Drs. Sangeeta Bhatia, Robert Langer, Paula Hammond, Daniel Anderson, Angela Belcher, and Darrell Irvine—and their teams at the Koch Institute for Integrative Cancer Research at MIT to tackle grand challenges in cancer detection, treatment, and monitoring with a focus on miniaturization and convergence—the blending of the life and physical sciences with engineering.
For more information about IAMNano, contact Tarek Fadel, Assistant Director of the Marble Center for Cancer Nanomedicine (tfadel@mit.edu). Press contact: Bendta Schroeder (bendta@mit.edu), Communications Specialist, Koch Institute for Integrative Cancer Research.
About Alloy Therapeutics. Alloy Therapeutics is a biotechnology ecosystem company empowering the global scientific community to make better medicines together. Through a community of partners across academia, biotech, and the largest biopharma, Alloy democratizes access to tools, technologies, services, and company creation capabilities that are foundational for discovering and developing therapeutic biologics across six modalities including antibodies, TCRs, genetic medicines, peptides, cell therapy, and drug delivery. Alloy's first foundational technology, the ATX-Gx™, is a human therapeutic antibody discovery platform consisting of a growing suite of proprietary transgenic mice strains. Alloy is a leader in bispecific antibody discovery and engineering services, utilizing its proprietary ATX-CLC common light chain platform integrating novel transgenic mice and phage display. DeepImmune™ integrates Alloy's full complement of proprietary in vivo, in vitro, and in silico discovery and optimization technologies into one comprehensive service offering for fully human antibody, bispecific, and TCR discovery. DeepImmune is also available for royalty-free access as part of Alloy's novel Innovation Subscription model. Alloy is headquartered in Boston, MA with labs in Cambridge, UK; Basel, CH; San Francisco, CA; and Athens, GA. As a reflection of Alloy's relentless commitment to the scientific community, Alloy reinvests 100% of its revenue in innovation and access to innovation.
Join the Alloy Therapeutics community by visiting alloytx.com, following Alloy on LinkedIn, or scheduling a 15-minute chat with Alloy's Founder and CEO at alloytx.com/ceo.
About Danaher. Danaher is a global science and technology innovator committed to helping its customers solve complex challenges and improving quality of life around the world. Its family of world class brands has leadership positions in the demanding and attractive health care, environmental and applied end-markets. With more than 20 operating companies, Danaher's globally diverse team of more than 80,000 associates is united by a common culture and operating system, the Danaher Business System, and a Shared Purpose, Helping Realize Life's Potential. For more information, please visit www.danaher.com.
About Fujifilm. FUJIFILM Holdings America Corporation is the regional headquarters for the Americas. It is comprised of 21 affiliate companies across North and Latin America that are engaged in the research, development, manufacture, sale and service of Fujifilm products and services. The company's portfolio represents a broad spectrum of industries including medical and life sciences, electronic, chemical, graphic arts, information systems, industrial products, broadcast, recording media, and photography. For more information, please visit: https://www.fujifilm.com/us/en/about/region.
FUJIFILM Holdings Corporation, Tokyo, Japan, brings cutting edge solutions to a broad range of global industries by leveraging its depth of knowledge and fundamental technologies developed in its relentless pursuit of innovation. Its proprietary core technologies contribute to the various fields including healthcare, highly functional materials, document solutions and imaging products. These products and services are based on its extensive portfolio of chemical, mechanical, optical, electronic, and imaging technologies. For the year ended March 31, 2021, the company had global revenues of $21 billion, at an exchange rate of 106 yen to the dollar. Fujifilm is committed to responsible environmental stewardship and good corporate citizenship. For more information, please visit: www.fujifilmholdings.com.
About Sanofi. We are an innovative global healthcare company, driven by one purpose: we chase the miracles of science to improve people's lives. Our team, across some 100 countries, is dedicated to transforming the practice of medicine by working to turn the impossible into the possible. We provide potentially life-changing treatment options and life-saving vaccine protection to millions of people globally, while putting sustainability and social responsibility at the center of our ambitions.