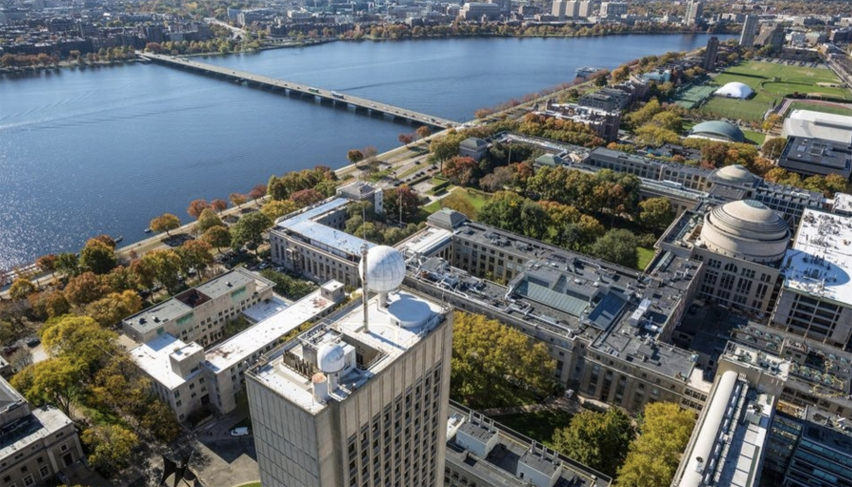 MIT Koch Institute
November 11, 2021
The Commonwealth Foundation for Cancer Research has pledged $25 million to the Bridge Project, a collaborative research program of the Koch Institute for Integrative Cancer Research at MIT (KI) and Dana-Farber/Harvard Cancer Center (DF/HCC), to transform drug discovery and early-stage development.
As part of this commitment to the Bridge Project, The Commonwealth Foundation gift will propel "Expansion Grants," which fund projects being readied for clinical testing or that are already in the clinic. It will also place a significant focus on projects that accelerate therapeutic drug development, stimulating research on traditionally challenging classes of cancer drug targets and/or on more conventional targets found in rarer forms of cancer.
The gift builds on a previous investment of $20 million in 2015 from the Commonwealth Foundation to the Bridge Project. To amplify the impact of this new gift, DF/HCC and MIT will match these funds over the next five years, resulting in a combined $50 million expansion of the Bridge Project.
The Bridge Project, launched in 2011, funds cross-institutional and interdisciplinary teams of cancer scientists, engineers, and clinicians to solve long-standing problems in the most intractable cancers. The program was designed to integrate advanced cancer science research at both institutions by leveraging MIT's strengths in basic cancer research and bioengineering, and DF/HCC's strengths in clinical cancer research and cancer care. As such, each team is co-led by at least one MIT investigator and one DF/HCC investigator.
The Bridge Project links the cancer research efforts of MIT and DF/HCC—Massachusetts' two National Cancer Institute (NCI)-designated cancer centers. The Koch Institute is an NCI-designated basic laboratory cancer center, and DF/HCC is an NCI-designated comprehensive cancer center that unites the cancer research efforts of Harvard's five principal affiliated hospitals and two health science schools.
"We are deeply appreciative to the Commonwealth Foundation and the Goodwin Family for their continuing generosity. Their commitment is a reflection of the world-class innovation taking place through the Bridge Project, a collaboration that is changing lives through science," said Laurie H. Glimcher, MD, president and CEO, Dana-Farber, and director, DF/HCC. "This support will fund high-impact research and drug development to offer new solutions to patients."
"We are very proud to continue our support of the Bridge Project, which brings together the brightest minds in cancer research and care to develop new approaches and therapeutics for patients," said Bill Goodwin, chair of the Commonwealth Foundation for Cancer Research. "Through this contribution, we hope to amplify our impact by inspiring other families to support this innovative, collaborative effort."
The Bridge Project has been led by Tyler Jacks, PhD, founding director of the Koch Institute and the David H. Koch Professor of Biology at MIT; and David Livingston, MD, formerly the Charles A. Dana Chair in Human Cancer Genetics at Dana-Farber Cancer Institute and the Emil Frei III Distinguished Professor of Medicine at Harvard Medical School, who passed away unexpectedly on October 17, 2021. His loss is felt deeply across the entire cancer research community, and Dana-Farber leadership remains committed to the Bridge Project and the impactful, collaborative science that is part of Dr. Livingston's legacy.
"We very much look forward to the opportunities that the Commonwealth Foundation's new gift creates to focus on direct translational studies and developing novel treatments," said Jacks. "Their support, along with contributions they have inspired others to make, have been essential to our formation of a highly effective Greater Boston network for applying basic research and technological advances to clinical questions and challenges."
"Since 2011, the Bridge Project has enabled us to bring together the best of cancer science and engineering, funding dozens of multidisciplinary teams that have made great strides in innovative cancer research," said Livingston before his passing. "We thank the Commonwealth Foundation for their transformative contribution and continued partnership as we continue to rapidly develop new ways to improve outcomes for cancer patients."
About Bridge Project
Dana-Farber/Harvard Cancer Center (DF/HCC), an NCI-designated comprehensive cancer center, was founded to integrate and build upon the collective talent and resources of the Harvard cancer research community. Five Boston academic medical institutions—Beth Israel Deaconess Medical Center, Boston Children's Hospital, Brigham and Women's Hospital, Dana-Farber Cancer Institute, and Massachusetts General Hospital—and two Harvard Schools—the Harvard Medical School and the Harvard T.H. Chan School of Public Health—combined their scientific strengths to create a rich, collaborative environment that transcends institutional borders. DF/HCC is the powerful successor organization to the Dana-Farber Cancer Institute Comprehensive Cancer Center, one of the original cancer centers designated by the NCI in 1973.
Today, more than 1,100 DF/HCC cancer researchers are working together in innovative clinical-, translational-, basic-, and population-based research programs. Our members receive in excess of $600 million in cancer research funding. Cost-effective shared facilities, or centralized core laboratories, enable access to cutting edge technologies and allow us to build world-class scientific archives. Our members are training and educating the next generation of cancer researchers. Thousands of patients are being enrolled in our clinical trials.
As one of the largest cancer research enterprises in the world, DF/HCC is committed to maximizing the impact of its research for cancer patients and ultimately realizing a world without cancer.
About Dana-Farber Cancer Institute
Dana-Farber Cancer Institute is one of the world's leading centers of cancer research and treatment. Dana-Farber's mission is to reduce the burden of cancer through scientific inquiry, clinical care, education, community engagement, and advocacy. Dana-Farber is a federally designated Comprehensive Cancer Center and a teaching affiliate of Harvard Medical School.
We provide the latest treatments in cancer for adults through Dana-Farber Brigham Cancer Center and for children through Dana-Farber/Boston Children's Cancer and Blood Disorders Center. Dana-Farber is the only hospital nationwide with a top 5 U.S. News & World Report Best Cancer Hospital ranking in both adult and pediatric care.  
As a global leader in oncology, Dana-Farber is dedicated to a unique and equal balance between cancer research and care, translating the results of discovery into new treatments for patients locally and around the world, offering more than 1,100 clinical trials.
About Koch Institute for Integrative Cancer Research at MIT
The Koch Institute for Integrative Cancer Research, a National Cancer Institute-designated Basic Cancer Research Center, is the hub of cancer research on the MIT campus. Bringing together biologists, chemists, engineers, computer scientists, clinicians, and others in a state-of-the-art facility, the Koch Institute offers fresh perspectives and interdisciplinary approaches to advancing the fight against cancer. Working within the vibrant MIT research community and with external collaborators, including NCI-designated clinical cancer centers and biotech/pharma partners, the Koch Institute is dedicated to developing novel insights into cancer, as well as new tools and technologies to better detect, treat, and prevent the disease.