MIT Koch Institute
March 11, 2021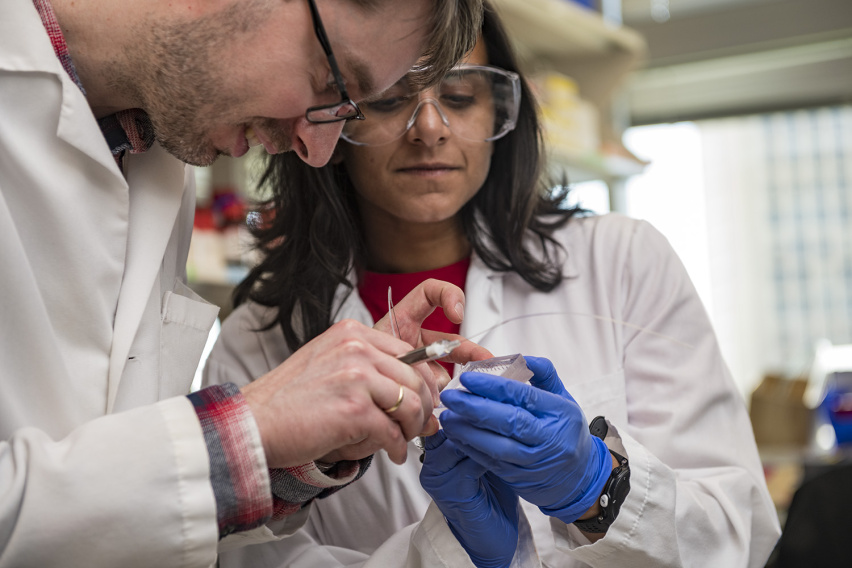 Cancer comes from within us. It is us, our own cells continuously multiplying where and when they should not. Collaboration among cancer cells—via multiple genetic mutations enabling tumor progression, drug resistance or immune evasion—leads to poorer patient outcomes.
Luckily, collaboration among humans can lead to better outcomes. For MIT's cancer research community, collaboration is a way of life, intrinsic not only to its pre-clinical programs but translational ones as well. Break Through Cancer, a new foundation, is enlisting the Institute's unique strengths and leadership in cancer research, along with other top institutions, to take this approach to a whole new level.
Launched with a challenge pledge of $250 million from Mr. and Mrs. William H. Goodwin, Jr. and their family, including the estate of their son, William Hunter Goodwin III, Break Through Cancer will fund and support collaborative, multi-disciplinary research teams drawn from leading US cancer centers. Current partner institutions include the Koch Institute for Integrative Cancer Research at MIT, Dana-Farber Cancer Institute, the Sidney Kimmel Comprehensive Cancer Center at Johns Hopkins, Memorial Sloan Kettering Cancer Center, and the University of Texas MD Anderson Cancer Center.
The Goodwin family's newest philanthropic endeavor, built on the strength of their relationships to MIT and these other institutions, is an opportunity to expand on the success of the collaborative, translational model of the Bridge Project, to which they have made pivotal gifts.
The Bridge Project funds collaborative teams that bring bioengineering, advanced cancer science, and clinical oncology together to solve challenges in cancer research and care. Like Break Through Cancer, it has its roots in personal connections. More than a decade ago, Art Gelb SCD '61, approached MIT and Dana-Farber Cancer Institute (DFCI) about forming a bilateral collaboration, motivated by his own institutional and philanthropic ties as an MIT alumnus and Corporation life member, and a trustee of DFCI. Fast forward ten years and this model is flourishing around greater Boston, connecting MIT not only with DFCI but also the six other institutions comprising the Dana-Farber/Harvard Cancer Center.
For cancer researchers at MIT, Break Through Cancer means opportunities to join multidisciplinary teams focused on finding solutions for some of the most challenging cancers, which will initially include pancreatic cancer, ovarian cancer, glioblastoma, and acute myelogenous leukemia (AML). Beyond substantial research funding for the investigators, the effort is also expected to facilitate greater resources access—such as technological capabilities and sample and data sharing—across partner institutions.
Break Through Cancer's efforts will be overseen by Tyler Jacks, PhD, David H. Koch Professor of Biology and Founding Director of the Koch Institute for Integrative Cancer Research at MIT, and William G. Nelson, V, MD, PhD, Marion I. Knott Professor of Oncology and Director of the Sidney Kimmel Comprehensive Cancer Center at Johns Hopkins. Jacks and Nelson will serve as President and Chairman, respectively.
"We are fully aware that mobilizing this approach at this scale is not a simple task. We've asked people to think in very different ways, to consider institutional strengths and be open to radically new ideas," says Jacks. "We are striving for the perfect balance between big ideas that will dramatically change things for the better and practicable plans that demonstrate the value of working together."
And it's not just investigators and institutions that will be working together. Break Through Cancer has challenged itself to forge new connections of its own. Structuring its opening pledge as a challenge, the organization has plans to partner with the biotech, pharmaceutical, and philanthropic communities to match its commitment and further expand the impact of the cancer research it supports.
For further information, please visit www.breakthroughcancer.org.