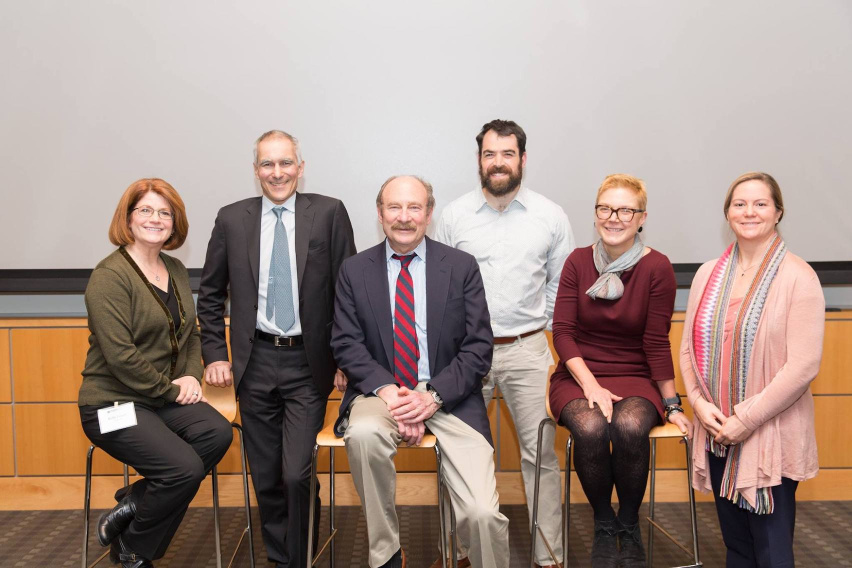 Members of the Lumicell team celebrate their technology's progress at SOLUTIONS with/in/sight event in November 2017.
MIT Koch Institute
November 7, 2019
Surgery is a critical step in treating many cancers, yet surgeons cannot readily detect cancer cells left in the margins. They, and their patients, must wait days for pathology results and even then, cancer cells are easily missed: for example, more than 30% of breast lumpectomy patients have positive margins requiring repeat surgery. KI member Professor Linda Griffith, with MIT collaborator Moungi Bawendi and former KI staff member W. David Lee '69, developed an innovative image-guided cancer surgery technology to address this problem. Lumicell, the company formed by the research team, has launched a pivotal trial, a final step toward FDA approval, for its Lumicell Imaging System in breast cancer, a disease with which multiple team members have personal experience. Earlier-stage trials are ongoing in prostate, ovarian, brain, pancreatic, and GI cancers.
Lumicell's system pairs an injectable optical contrast agent with a hand-held, single-cell resolution imager that fits into the tumor cavity to scan the margins; proprietary decision software produces real-time images locating residual cancer cells for immediate removal, helping prevent repeat surgeries, lower healthcare costs, and improve patient outcomes. The system fits seamlessly into existing surgical workflows, and is expected to cost under $100K, key goals of the research team throughout the development of the imaging system, which received early support from the Koch Institute Frontier Research Program through the Kathy and Curt Marble Cancer Research Fund. Watch the team present their technology, and their stories, motivated in part by members' own experiences with breast cancer, as part of the Koch Institute's with/in/sight series.