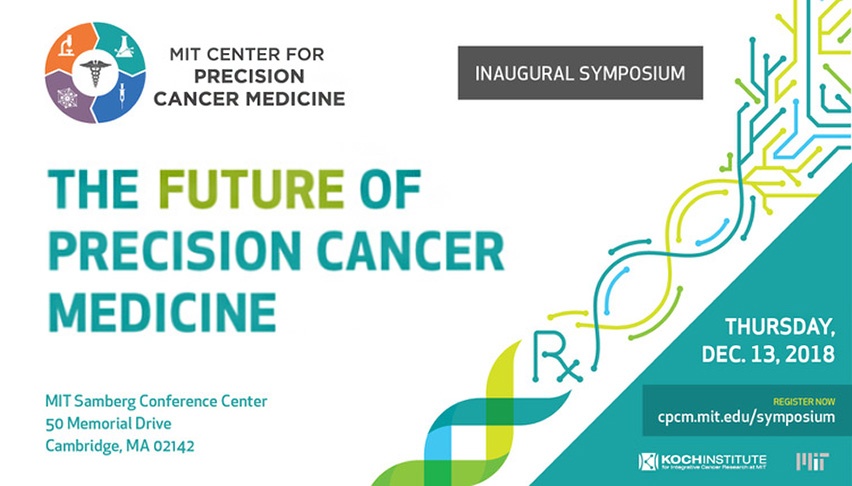 Over the past decade, there have been major advancements in the field of precision medicine, leading to exciting new treatments for some cancer patients. Much attention has been focused on genomic profiling of tumors to identify genomic alterations that might guide selection of specific therapies for individual patients. Beyond genomics, however, there is a variety of other precision approaches that can identify and exploit cancer-specific biological mechanisms including proteomics, metabolomics, and computational modeling, resulting in the more effective use of existing cancer medicines.
On Thursday, December 13, 2018, the MIT Center for Precision Cancer Medicine held its inaugural annual symposium in the Samberg Conference Center at MIT. This full-day event featured leading researchers and clinicians, who highlighted recent advances in precision cancer medicine and share perspectives on the future. An industry panel also discussed the barriers to instituting precision medicine into current and future clinical trials.
Speakers
Keynote Address
Charles Sawyers, MD
Chair, Human Oncology and Pathogenesis Program
Memorial Sloan Kettering Cancer Center
---
Speakers
Andrea Califano, PhD
Clyde and Helen Wu Professor of Chemical Systems Biology, Columbia University
Chair, Department of Systems Biology, Columbia University
Director, JP Sulzberger Columbia Genome Center
Associate Director, Herbert Irving Comprehensive Cancer Center
J. Christopher Love, PhD
Professor of Chemical Engineering, MIT
Associate Member, Ragon Institute of MGH, MIT and Harvard
Member, Koch Institute, MIT
Richard Marais, PhD
Professor of Molecular Oncology
Director, CRUK Manchester Institute

The University of Manchester
Kenna Mills Shaw, PhD
Executive Director, Sheikh Khalifa Bin Zayed al Nahyan Institute for Personalized Cancer Therapy
MD Anderson Cancer Center
Alice Shaw, MD, PhD
Professor, Harvard Medical School
Director, Thoracic Cancer Program, Massachusetts General Hospital
Matthew Vander Heiden, MD, PhD
Associate Professor of Biology, MIT
Associate Director, Koch Institute
Member, MIT Center for Precision Cancer Medicine
Michael B. Yaffe, MD, PhD
David H. Koch Professor of Science, MIT
Professor of Biology and Biological Engineering, MIT
Director, MIT Center for Precision Cancer Medicine
Director, Koch Institute Clinical Investigator Program
Jean Zhao, PhD
Professor of Biological Chemistry and Molecular Pharmacology
Harvard Medical School and Dana-Farber Cancer Institute
---
Panelists: Barriers to Instituting Precision Medicine in Clinical Trials
Moderator: Angela Koehler, PhD
Goldblith Career Development Professor in Applied Biology, MIT
Member, Koch Institute for Integrative Cancer Research
Member, MIT Center for Precision Cancer Medicine
Peter Hammerman, MD, PhD
Global Head, Translational Research
Oncology Disease Area
Novartis Institutes for BioMedical Research
Steffan N. Ho, MD, PhD
Vice President, Head of Translational Oncology
Pfizer Global Product Development
Shiva Malek, PhD
Director and Principal Scientist
Department of Discovery Oncology
Genentech Inc
Kevin Marks, PhD
VP of Biology
Agios Pharmaceuticals
S. Michael Rothenberg, MD, PhD
Vice-President, Research and Development
Loxo Oncology, Inc.
Thank you to our sponsors
Gold
Thermo Fisher Scientific
Silver
Takeda
Bronze
Agilent Technologies
Cell Signaling Technology