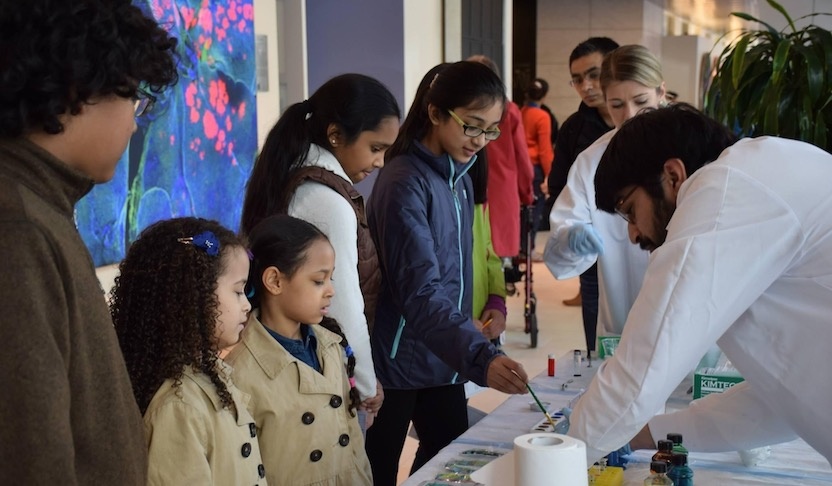 April 2011, 2015, 2016
Koch Institute Public Galleries
Koch Institute researchers present hands-on activities and demonstrations to showcase the science and engineering behind cancer research at MIT. Explore past events below.
Step inside MIT's state-of-the-art cancer research center and discover how biologists and engineers are working together to defeat this deadly disease. Featuring hands-on activities, experiments, demonstrations, games, and prizes, this open house showcase will explore technologies of today and tomorrow while celebrating the rich history of discovery and innovation that lead us to uniquely MIT solutions to one of the world's biggest global health challenges. Meet students, take your picture with top researchers, and immerse yourself in the world of cutting-edge cancer research at MIT.
Presented as part of Under the Dome, MIT's campus-wide open house event during the Cambridge Science Festival and MIT 2016. See activity schedule below and photos on Facebook.
10:00 – 3:00
Scavenger Hunt & Prizes
Mini Labs: DNA Extraction, Alginate Beads, Microscopy
Devour and Destroy: The Life of a Macrophage (Chen Lab)
Good Vibrations: Using Resonating Mass Sensors to Weigh Cells (Manalis Lab)
Picture Yourself at MIT: Selfies, Science, and Superstars
Camp Kesem
10:00 – 11:30
Nanoparticles for Cancer Diagnostics and Therapeutics at the Laboratory for Multiscale Regenerative Technologies led by Dr. Sangeeta Bhatia (Bhatia Lab)
How Are Lungs Different From Livers? (Lees Lab) - See what different tissues in mice and fish look like, and how tumors disrupt these tissues.
10:00 – 12:30
Despicable Mena: how can cancer cells become metastatic? (Gertler Lab)
10:00 – 1:00
Using Micro- and Nanotechnologies to Combat Disease (Irvine Lab)
10:00 – 1:30
Studying the Cell Cycle to Understand Cancer (Amon Lab)
11:30 – 1:30
Engineering New Mouse Models of Cancer (Jacks Lab)
Finding New Medicines to Treat Cancer (Koehler Lab)
Targeting Antibodies to Cancer (Wittrup Lab)
12:00 – 3:00
Tiny Squishy Superheroes Tackle Aggressive Cancer (Hammond Lab)
12:30 – 3:00
It Takes a Village: Understanding the Microenvironment (Hynes Lab)
1:00 – 3:00
Cancer Metabolism (Vander Heiden Lab)
Proteins at Work: Building Blocks of Cell Signaling (White Lab)
1:30 – 3:00
Tumor Spheres: How Non-Cancer Cells Can Help and Hurt Tumors (Hemann Lab)
Diet and the Gut (Yilmaz Lab)
More than 300 people attended the Koch Institute's 2015 open-house event "Behind the Beaker, Beyond the Machines" on April 24, finding themselves face to face with zebrafish, cartoon cells, models, devices, movies, and actual specimens from ongoing KI research projects. Even more importantly, they had the chance to engage with more than 100 volunteers from 22 KI laboratories and core facilities though the research showcase in the KI Public Galleries and accompanying "mini-lab" of hands-on experiments. Whether getting hands dirty or minds engaged, the volunteers infused the event with passion, creativity, and knowledge, even inspiring one young visitor to remark "I want to study cancer research one day." We're pretty sure it wasn't just because of the temporary tattoos that everyone received…
View photos of the event on our Facebook page.
Presented as part of the 2015 Cambridge Science Festival with event-specific support from Genzyme.
Participating KI laboratories
Bhatia Lab – Nanotechnology for cancer diagnosis and treatment
Chen Lab – Life of a macrophage 

Cima Lab – New technologies for drug delivery and monitoring 

Floyd Lab – DNA damage in cancer treatment 

Gertler Lab – The deadly spread of cancer 

Hammond Lab – Layer-by-layer nanotechnology 

Hemann Lab – Tumor heterogeneity and chemoresistance 

Hynes Lab – Metastasis and the extracellular matrix 

Irvine Lab – Combating disease with micro- and nanotechnologies 

Jacks Lab – Modeling cancer 

Koehler Lab – When cancer cells hulk out 

Langer Lab – Drug delivery and nanoparticles
Lees Lab – Zebrafish and cancer development 

Love Lab – Cancer complexity and precision medicine 

Manalis Lab – Modeling metastasis with circulating tumor cells 

Sharp Lab – The many lives of RNA 

Vander Heiden Lab – Cancer metabolism in action 

Wittrup Lab – Targeting cancer with therapeutics 

Yilmaz Lab – We are what we eat 

On April 30, 2011, hundreds of visitors to MIT's campus-wide celebration of its 150th anniversary visited the newly opened Koch Institute for Integrative Cancer Research at MIT for hands-on activities, guided tours of the Koch Institute Public Galleries, personal reflections, and special presentations about the next chapter of cancer research at MIT.
The event was presented as part of Under the Dome and the Cambridge Science Festival.