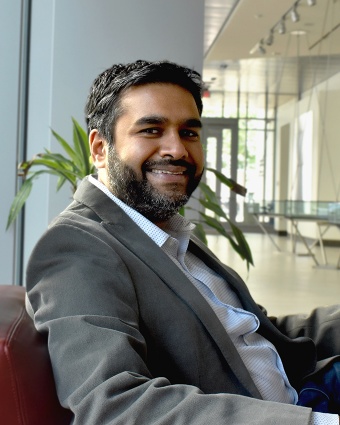 Charles W. (1955) and Jennifer C. Johnson Clinical Investigator
Contact Information
Salil Garg
76-561F
(617) 324-2382
Garg Lab
(617) 253-6458
(617) 253-3867
Research Areas
Detection & monitoring, Precision medicine
Why do cells with the same DNA behave differently? We believe the answer lies in how genes are regulated, and uncovering the answer will explain many treatment failures in cancer.
Research Summary
Our laboratory combines approaches from cell biology, systems biology, and bioinformatics to understand heterogeneity and how it underlies treatment failure in cancer. The individual cells of a tumor can be strikingly heterogeneous, each with unique gene expression signatures. Finding therapeutics that target and eliminate all of these signatures is a challenge. Interestingly, this process has a parallel during normal mammalian development. In this case, one fertilized zygote also gives rise to many individual cells with unique gene expression signatures. We believe that these two processes are deeply connected; we hypothesize cancers hijack processes evolved for development to generate tumor heterogeneity. We use the lens of gene regulation to identify processes generating heterogeneity and how they can be targeted by therapeutics. In a related direction, we are using developmental mapping of tumors to build novel cancer diagnostics that more precisely define cancer entities and predict therapy response. Our long-term goal is to understand how heterogeneity arises in cancer and development, to understand which cancers are driven by developmental phenomenon, and to use this knowledge to improve cancer treatment and diagnosis.
Biography
Salil Garg, MD, PhD, is a Charles W. (1955) and Jennifer C. Johnson Clinical Investigator at the Koch Institute for Integrative Cancer Research at MIT. Trained through the Harvard/MIT-MD PhD Program at Harvard Medical School, he completed his doctoral thesis in the laboratory of Michael Brenner studying cellular trafficking in the immune system. Following clinical training in clinical pathology and molecular genetic pathology, Garg completed postdoctoral work in the laboratory of Koch Institute faculty member, MIT Institute Professor, and Nobel Laureate Phillip A. Sharp. Garg currently practices at Massachusetts General Hospital and Brigham and Women's Hospital. In 2017, he was named a STAT Wunderkind, an accolade that honors the brightest young minds in life science for their work in academia, industry, and in the clinic.